Why Baltimore Booed Mark Teixeira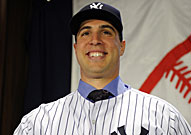 I've been surprised by the reaction to the cavalcade of disdain that greeted Mark Teixeira on Opening Day. Colin Cowherd went absolutely nuts today on his radio show, and (as Andrew pointed out) the YES network guys weren't much better. It was a hot topic on local sports radio all day, and that continued tonight on 105.7.
I wasn't at the game and can't speak for anybody but myself, but I think it might be important to articulate some possible reasons for why it went down the way it did.
The easy answer would be that it's about him choosing the Yankees over the Orioles. And, sure, that's part of it. But I think it runs much deeper.
Teixeira's choice wasn't about baseball and it wasn't about Baltimore. It was about money. And I think that in the minds of many Orioles fans, that also makes it about what kind of person he is and — more importantly — what baseball has become.
I believe most baseball fans still hold onto the idea that the game is bigger than all of us. That it still means something and is still woven into the fabric of our culture in a way that no other sport can match. I think we also all know that these things are slipping away, and we don't like it.
The greeting Teixeira received wasn't organized. No radio station or blog sponsored it. Nobody led the movement. It was a completely organic thing, born out of frustration not only with Teixeira, but also with what he represents.
Which is to say: everything that is wrong with baseball. Not the game, but the business.
I think people were booing his lack of integrity, his inability to act like a human being instead of a PR robot, and his basic lack of baseball decency. It wasn't about him not coming here. It was about where he went and why.
Mark Teixeira has become a touchstone for all of the things we wish we didn't have to deal with when we watch baseball. He's become an avatar of bullshit, and he has earned that position. He earned it by putting business and marketing and public relations and numbers above the two things he and every player ought to put first every day: being a baseball player and being a human being.
The fans didn't just reject him as a Yankee, they rejected him as someone who has helped rob us of some of the things this great game has provided. And I think that on some level they were saying, "enough is enough."