Your New Next Hope
On Tuesday, you can tune into the MLB Network and watch as the thirty baseball teams attempt to refill their minor league coffers with fresh blood. It is no coincidence that with free agency becoming pricier every year, a new-found emphasis on player development and The First Year Player Draft has arisen. But the draft largely remains inaccessible to the casual fan. Tune in on Tuesday, and you won't know who Andrew Oliver is, let alone if he was a good choice (and why) for the Indians at #15.
Let's remedy this ignorance, and talk in depth about who the Orioles are looking at drafting in the first round – who will undoubtedly become another face of the minor league system, for better or worse. As Jim Hunter reported on MASN.com the other day, "the Orioles draft board will have their top five rated players regardless of position. The top player still available of those top five players when it's the Orioles turn to pick will become their first-round choice". So let's try to figure out those top five, shall we?
There are only two constants in this draft. One, the Orioles pick fifth, behind Washington, Seattle, San Diego, and Pittsburgh. Two, Stephen Strasburg and Dustin Ackley, the respective top pitcher and hitter, are already off the board. Neither of them will fall anywhere close to Baltimore (nor should they). This leaves the Orioles with many options…
Jacob Turner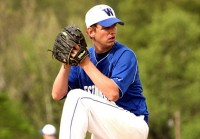 Turner has a lot going for him: he is the top high school righthander coming out of Westminster Christian Academy in St. Louis with an outstanding fastball (mid to high 90s), curve, and change. He's had a phenomenal spring, catapulting him into the top five talents available. He is a big, tall athlete with an easy delivery and a ton of upside. He still needs to work on his command and consistency some, but with experience (and health) Turner could become one of the best pitchers in baseball. Unfortunately, he has one big thing going against him: Scott Boras is his advisor, and Boras wants a lot of money for Turner. The last pitcher to demand the $7 million Turner wants was current Tigers Rookie of the Year candidate Rick Porcello, who dropped all the way to #27 because of Boras.
Fortunately for us, the Orioles have spent the 4th most money on the draft in the last two years (much of that went into overslot bonuses for Jake Arrieta, Matt Wieters, and Brian Matusz) and have not shied away from top talent advised by Boras. Still, if there are two players that are close on the draft board, I would bet that Boras' guy loses out to someone cheaper.

Grant Green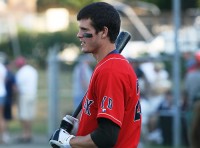 The USC shortstop is a popular topic in Birdland. It seems like everyone sees a first round talent shortstop and the Orioles complete lack of quality shortstop prospects,  and puts two and two together. The only problem before the season was whether or not Green would even be around by the time the Orioles got an opportunity to pick. Last summer, Green broke out in a big way in the notorious prospect-haven Cape Cod League, drawing comparisons to Troy Tulowitski and Evan Longoria while hitting .348/.451/.547 and being named the league's top prospect by Baseball America. This came as the exclamation point to a college career that had been on the upswing for two years. But then it got messy.
This past college season Green put up these numbers: 54 games, .374/.429/.569. That sounds wonderful, except that he hit only 4 home runs (after belting 9 the previous college season). In fact, comparing his sophmore year to his junior year does no favors to Green: .390/.432/.644. That isn't just a loss of forward momentum, that's taking a step backwards when the spotlight is on. Additionally, Green is advised by the Man Behind The Draft Curtain, Scott Boras, so his mediocre year won't discount him. Green will go in the first round, but there aren't many who think he's better than any of the top pitchers that will be available at number 5.
Kyle Gibson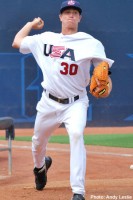 The right hander from Missouri was until recently my pick for the Orioles to draft in the first round. This was partially out of the silly desire to be able to some day wear a "Gibson" Orioles jersey (it's my last name), but also because he was pitching very well and the folks at Baseball America (who are smarter than I am) were big on him. Gibson was regarded as a high-floor, low-ceiling pitcher, meaning that he will almost certainly crack a big-league rotation, but he will almost certainly not be even a Jeremy Guthrie-level talent on the mound.
Gibson uses a low-90s/high-80s fastball with sink (well…more on that in a second) along with a strong slider and a good changeup. His command has been excellent and he has put up some impressive numbers this season: 106.2 IP, 131 K, 19 BB, 5 CG as the Mizzou staff ace. But in his last two starts, Gibson experienced diminished velocity on that fastball (down to the low-to-mid 80s) and foreboding forearm tightness. He shrugs it off as normal fatigue from a long season, but nobody in the top five is going to be comfortable with a Tommy John candidate who didn't have a high ceiling in the first place. Gibson's best asset was considered how "safe" he was (high floor), but if he has elbow damage that safe tag goes out the window. Still, if he is healthy he remains one of my favorite options for the Orioles (or any top ten team).
Tyler Matzek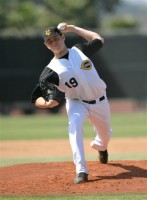 Matzek is the best of the high school pitchers. The lefty comes from California's Capistrano Valley High School, where he developed into a top-ten pitching talent. I'm not going to put any numbers up here, because high school numbers are basically meaningless to any of us, right? We don't know anything about the kids he's pitching to, nor about the fields he's playing in. What we do know is that Matzek is an athletic power left hander with four polished pitches and a strong, smooth, easy delivery.  His fastball sits mid-90s, hitting as high as 97 recently and is complemented by a curve, change, and slider. Additionally, he seems to have a good brain for baseball. The guy you might be thinking of with that description is a similarly named lefty in the Orioles' system: Brian Matusz.
He isn't perfect. There is always an issue with taking high school pitchers high in the draft. They haven't been through their most important development years, where the wheat is separated from the chaff via injuries, ineffectiveness, and an inability to harness potential. Matzek has potential in spades, but he has had a few outings this spring where velocity and command have been inconsistent. It is important to consider, though, that Joe Jordan has not shown any bias towards or away from prep pitchers (or positional players) since he has been in The Warehouse, so I'm not sure Matzek's age is a deterrence.
Zack Wheeler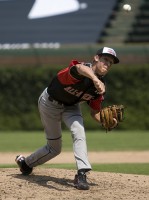 Wheeler is another tall, athletic, projectable pitcher who will probably be available to the Orioles. The righty currently attends East Paulding High School in Georgia and comes with all of the prep pitcher risks but at least one of those risks is mitigated by the fact that scouts rave about Wheeler's mental makeup, confidence, and maturity. Wheeler also has perhaps the best mechanics of any prep pitcher in the draft. His fastball sits in the mid 90s that is complemented with a two-seamer and a good slurve. He is without the all-important changeup, so naturally he is a work in progress.
Going in Wheeler's favor is that he is not a Boras advisee, and does not come with the signable baggage of Turner or Strasburg. This could make him more attractive to the two teams directly ahead of the Orioles who do not have the budget Baltimore does.
Aaron Crow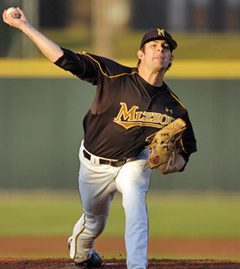 The best right handed pitcher in the 2008 draft (and arguably the best pitcher – the only competitor to that throne was Brian Matusz) failed to sign with the Natinals and instead spent the spring pitching in the Independent Leagues for the Ft. Worth Cats. Before that, Crow was a college teammate of both Kyle Gibson and current Shorebird Rick Zagone at Missouri, where he earned his reputation: 107.1 IP, 127 K, 38 BB, 4 CG in 15 starts including 43 straight scoreless innings. Crow's fastball is the full package: speed, command, sink, and stamina. He complements it with a plus slider and a developing changeup.
Perhaps the best positive of drafting Crow, outside of having the top two pitchers from the 2008 draft in the same system, would be that he can move quickly through the system and make a solid impact on the major league roster right alongside Tillman, Matusz, and Arrieta. The advanced pitching depth would be crazy, and the Orioles would certainly be in a position of immense power with all of those young, cheap, power arms. On the negative side of things, there are questions about Crow's mechanics, size, and durability which make him somewhat high-ceiling, high-risk.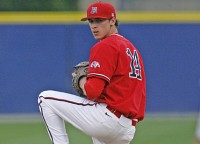 Tanner Scheppers
I already know that the Orioles like Scheppers, because they already drafted him in the 29th round of the 2005 draft. He turned them down, went to Fresno, and was drafted last year by the Pirates. They could not agree on a price because Scheppers had a serious shoulder injury, and now the righthander is pitching for the independent Saint Paul Saints (where old friend Kevin Millar broke into professional baseball). So, Scheppers is hoping that the third time is the charm, I guess. Unfortunately, that serious shoulder injury I just mentioned is, you know, serious. His draft stock has tumbled despite being given a clean bill of health and pitching well in Minnesota after rehabbing the injury.
Scheppers is yet another big, tall, athletic power pitcher with a smooth delivery and an impressive fastball, power curve, and developing changeup. The consensus seems to be that, if he were 100% healthy, he would certainly be above Crow on draft boards, and possibly right behind Strasburg. But despite the health proclaimed by Dr. Lewis Yocum and good results this spring (14 IP, 8 BB, 15 K, .264 BAA in 3 games) there is a lot of trepidation, especially within the top five.
————————————————————————————————————————–
In a sense, there are no wrong answers when you pick this high in the draft. None of these players are slam dunks the way Matt Wieters was, but none of them are slouches with the baseball, either. A good argument can be made for the O's to take any of these players, and only time will tell the wisdom of the eventual pick.
I know a lot of people are going to want to push Grant Green higher to fill the need in the organization for middle infielders, but if you want to objectively rank these players I think you have to do it like so:
Crow, Matzek, Turner, Scheppers, Green, Wheeler, Gibson (assuming the Orioles deem Scheppers healthy)
And, based on the many mock drafts and notes regarding Pittsburgh and San Diego that are available, I predict that the next top draft pick for the Baltimore Orioles is…
Tyler Matzek.
Not only is quality left handed pitching the most valuable commodity in baseball, Matzek offers one of the best combinations of risk and reward of anyone in the draft. Of course, how things turn out waits to be seen. Until Tuesday, the floor is open for debate and speculation…
(I want to thank a bunch of guys who have no idea who I am: Andy Seiler, John Sickels, Keith Law, Baseball America, and MASN. They did all the work, and I'm just summing up and putting in my own two cents)