2010 Prospect Preview: Jake Arrieta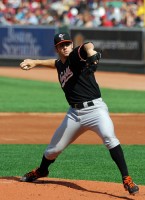 Jake Arrieta seems to have fallen in favor behind Chris Tillman and Brian Matusz (he didn't even get to sit near them or step-father-figure Kevin Millwood in Spring Training!), and that's surprising to me. Arrieta had a dominant half season in Bowie before struggling in Norfolk last year, though Dave Stockstill claimed that Jake had simply been working on his secondary pitches and his mechanics, giving all the weight of Spring Training games to his AAA performance. Which is good – Arrieta still needs work primarily on his command and control, which lag far behind the other members of "Tillreittusz", and the minor leagues are made for exactly that kind of polishing.
When I had the chance to see Arrieta pitch at the end of the season last year, he was a terrifying force on the mound: a fastball that touched 96, the ability to consistently miss bats (his contact rate on that one night in AAA was a well above average 76.3%), limited walks, and some devastatingly-timed breaking balls. Overall though, his numbers in AAA are disappointing. He did lower his walks to a career-best 3.3/9, but perhaps at the cost of overall quality: fewer Ks, more home runs, more baserunners, more runs in general.
We've all seen the bad brew that bad command and high power make in starting pitchers, and Arrieta is certainly closer to Daniel Cabrera than Josh Beckett, though neither comparison is fair. If Arrieta can consistently pitch like he did when I saw him – if he's finished working on his polish – then there's no doubt that he'll belong in the majors very soon in a way that the DC Cab never really did. But if he can't, then perhaps it is fair to stick him in the corner away from the Orioles' rotation.
(photo via)