2010 Prospect Preview: Josh Bell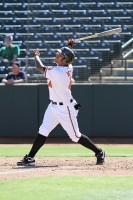 It's not every day that a team signs an All-Star former MVP with a still above-average bat and he gets asked at his introductory press conference about the hot upcoming prospect who will replace him. And yet, even as I watched Andy MacPhail cut in and save a squirming Miguel Tejada, I wanted the question answered. Because as much as I want this year to be about Tejada, the fact is that it's really about Josh Bell in the same way 2009 was about Matt Wieters.
Like Wieters, Bell has been talked about a lot in the blogO'sphere. Odds are that if you're reading this article right now, you already know all about him: the heavy platoon split, the defensive questions, the power, and the awesome tattoos. That's what happens when you're the top prospect at a position of need and you were traded for one of the more beloved members of the 2009 Orioles – you become weighted down with expectation and hype in addition to the normal high levels of stress of breaking into the major leagues and trying to be productive. I can't even begin to imagine the stress Matt Wieters had after being branded, fairly or not, as a franchise's savior before even one at bat.
But this is baseball in this new era. Youth and prospects are the Vorpal Blade of Rebuilding +3, and every single top prospect is subject to a level of scrutiny and unrealistic fan expectation and hope previously unheard of. In Josh Bell's case, that means everybody will be watching to see how he adjusts to hit left-handed pitching.
In case you haven't heard, Bell's platoon splits are really remarkable. In his breakout 2009 year at AA, Bell hit .339/.417/.626 against righties and .193/.282/.259 against lefties. Yes, he was Alex Rodriguez against right-handed pitching and Luis Hernandez against left-handed pitching. How does something like that happen? The reasons I've read are all-encompassing: attitude, work ethic, mechanics, luck, sample sizes, lack of experience, all of the above. Who knows the truth? The only obvious thing is that Bell needs to do something to improve against lefties one way or another if he wants to get to Baltimore.
Fortunately, the huge platoon question is looking like Bell's only question. He reportedly successfully put more emphasis on his defense and training last year, he has terrific power considering his age, he has shown more plate discipline than Nick Markakis, and boy can he hit from the left side of the plate. Outside of his right-handed hitting struggles, all Bell really needs to do is go out and do it on the field in Norfolk and force the issue in Baltimore.