Anita Marks Out at 105.7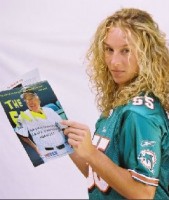 Somewhat surprising local media news: Anita Marks and 105.7 The Fan are parting ways.
According to the article, the two sides couldn't come to a contract agreement. She'll now take a month off to review her options.
I think it's safe to say that most Baltimore sports fans won't exactly be sad to see her go. Personally I was never a fan but I did think that the show she put on with Scott Garceau was generally entertaining. I liked their grumpy/ditzy dynamic.
Now that she's gone I'll share a story.
Back when the Rangers were considering trading Mark Teixeira and it looked like the O's might have a shot, I posted a Q&A with a columnist from the Fort Worth Star-Telegram. I emailed the link to a bunch of local media types — including Anita Marks — in hopes that they might mention it and drive some traffic to the site.
Later that day I hopped in my car and dialed up ESPN 1300 just in time to hear her repeating my questions — practically word-for-word and in the same order as I asked them — to a different columnist from the same newspaper.
Good times.