Defining "Meaningful Improvement" For the Orioles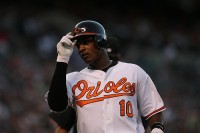 The moment the Orioles' 2009 season drew to a close the 2010 season became about two words: Meaningful Improvement. Andy MacPhail said so himself when picking up Dave Trembley's option, and O's fans from blog to bay seized on it as a sign that we were out of rebuilding and on to Phase Two.
We measured the Hot Stove moves accordingly. Kevin Millwood, Mike Gonzalez, and Garett Atkins all arrived in town with a charge to keep. Young players like Adam Jones, Matt Wieters, and Brian Matusz (among others) enter the new year with the training wheels off and expectations raised accordingly.
That's the idea, anyway.
The path from here to there remains clouded by reality. The Orioles still have holes to fill, and a lot of cards need to play right in order for 2010 to look and feel like a step forward. The process gets started Tuesday in Tampa Bay, and continues with a grueling first month schedule. The large task begins immediately.
As we wait, a question: what does Meaningful Improvement say to you?
Does it mean noticeable steps forward from the young players? Improved consistency? Avoiding a late-season collapse? Or does it mean significantly more wins? Do they need to sniff .500 for this season to be considered a success?
"All of the above" is the easy — and probably correct — answer, but I want to get specific. For me, that means wins.
2010 cannot be considered a success unless the team takes a significant step forward in the win column. I don't see this as Lost Season III, and I don't see it as a developmental year. I see it as the first year of the next era of Orioles baseball. Like any new venture, there will be struggle and hard times. They won't compete for a playoff spot and probably won't fare too well against the elite teams. But they must play better. That means more than 64 or 68 wins ('09 and '08, respectively).
The last time the O's won at least 75 games was 2004, when they reached 78 (they also came close in '05 with 74). The last time they finished fewer than 20 games out of first was 2000 (13.5 games back). It's fair to expect them to get back to 75 wins and finish less than 20 games out in 2010. Indeed, I actually expect them to do a little better than that — 78-80 wins wouldn't surprise me at all.
I still care a great deal about continued development of young players and overall consistency. I'd even go so far as to say that those things matter more than wins. I think, though, that wins should and will come as a result. If they don't, we'll have some hard questions to ask.
This is a big season in Birdland. I'd be lying if I said I wasn't nervous. I'd like, then, to get a full picture of the "pulse of the fan" as Opening Day approaches. Fire away with your expectations for the season and what Meaningful Improvement will look like to you. I'm eyeing benchmarks here. Let's define our tools for measuring 2010.
If nothing else, we'll need something to abandon if things don't go according to plan.
(photo via Keith Allison)