Five Points of Thanks, Baltimore Sports Edition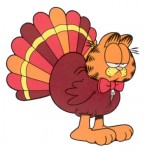 Making a "thankful" list is an exercise in undeniable cliché. I won't hide from that fact.
But, I'm OK with it. I actually dig the idea of a national holiday where we all — in theory at least — take a step back from the day-to-day and acknowledge the good things around us. Cliché or not, that's a nice thing. We ought to do it more often.
With that in mind — and I did something similar to this last year — a few things in Baltimore sports for which I'm personally thankful:
Buck Showalter
Prior to Buck's arrival we had to go back to Mike Hargrove to find the last Orioles manager with a proven Major League record. And, honestly, even Hargrove didn't have a particularly great pedigree. Buck's the first guy who can really claim "been there, done that" status since Davey Johnson. It's been a long time coming.
Ed Reed and Ray Lewis
You all know that the Ravens aren't my team but I'll be damned if I'd ever deny the greatness of these two players. They've both authored Hall of Fame careers here in Baltimore and that's pretty cool no matter where your particular rooting interests sit.
Gary Williams
There's nobody else I'd rather have coaching my college basketball team of choice. He doesn't always get the best guys but nobody else does as much with the guys he does get as Gary. On top of that, he runs a clean program. And he's just fucking cool. This guy is a true treasure and we need to appreciate him while we can because he won't coach forever.
Nick Markakis, Brian Roberts, Adam Jones, Brian Matusz, Matt Wieters
The Orioles are still building. Chances are we still have some tough times ahead. And yet, they have a lot of players who deserve our respect. These five stand at the top of my list. They're not the only guys I like, but they're the ones I'd pick if I had to make a "best of" list.
Our Local Media
From Roch Kubatko and the MASN team to the Orioles Insider folks at the Sun. From Camden Chat and the other bloggers to WNST and everyone in between. We don't lack for voices. I don't always dig on all of them, but it's a pretty vibrant scene and that's a nice thing to have.
The hope with a list like this, of course, is that you'll add your own ideas in the comments. Or disagree with mine. Either way, we're good.
Mostly, though, happy Thanksgiving to all of you. Here's to good times.