Flanagan Reemerges. I Have Advice.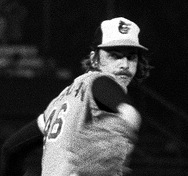 Mike Flanagan is an odd case. Even in baseball, a world filled with oddball lifers, his trajectory stands out. Try to name another guy who went from Hall of Fame Cy Young pitcher to coach to broadcaster to General Manager to "is he still with the team?" then back to broadcasting again. I could be wrong, but my guess is that Flanny's the only one.
Today's news that he's rejoining the broadcast team has me straining to recall what he was like during his last tour of duty. I can't do it. I'm pretty sure he didn't bother me, though, so I'm happy to welcome him back.
But if you're out there, Mike, pay attention. There is one commandment above all others that I — and all right-thinking Orioles fans — demand from our color guys: be weird.
Don't play it straight. Don't try to bring Gary Thorne back down to earth. Don't play yin to Palmer's yang. The O's have a grand tradition of weirdness in the booth and part of your job now is to uphold that tradition.
I don't know if you're up to the task or not. It's not an easy thing. But you've got the baseball knowledge for sure so I figure you're starting from a solid foundation.
Reach for the stars, Mike. Reach for the stars.