Free Agent Domino: Victor Martinez Off the Board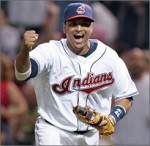 According to this article from ESPN, free agent Victor Martinez has agreed to a deal with the Tigers, spurning offers from the Red Sox, White Sox, and…Orioles.
The article says that the O's were "outbid," and according to Jen Royle it came down to $2 million dollars and the ever-present "losing team in the AL East" syndrome. No official confirmation on the dollar amounts (something we'll probably never get), but it hardly matters. We've been down this road before and whether it's $2 million or $20 million, part of the reason the O's got outbid is because as of today they're still a bottom-dwelling team in baseball's far-and-away toughest division.
I know some folks are going to say "well why didn't the O's offer 4 years and $55 million? Or 5 and 65? BECAUSE THEY DON'T WANT TO WIN??!!!!" And I suppose we could go through all of that again, how there's no direct correlation between desire to win and willingness to dramatically overpay. But let's not. For the moment I'm more interested in: what now?
There's probably no chance Adam Dunn comes here. And speaking of Jen Royle, she's also saying that Konerko isn't an option. That makes sense given that he's in the twilight of his career and probably doesn't want to spend those years on a team struggling to get to .500.
Carlos Pena? Turn the spot over to Luke Scott or Nolan Reimold or Johnny Damon and upgrade the offense at another position? I'll be damned if I have any idea.
For now I'm taking a holistic approach to this offseason. All I want to see is a noticeably upgraded roster by the time spring training begins. So it won't include Victor Martinez. OK, fair enough. Who's next?