Happy Brian Matusz Day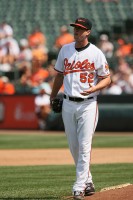 Admit it, while the official start of the season is fun and all, you've really been saving up your enthusiasm for tonight. It's nothing to be ashamed of. As good as Kevin Millwood and Jeremy Guthrie can be (or used to be) , they're still stopgap veterans. Brian Matusz is The Future. I still have visions of his last game in Yankee Stadium III dancing in my head. That was the prelude, tonight is the opening act. And our enemies, as Bob Dylan sang, will pinch themselves and squeal and they'll know that it's for real.
Well…let's be serious for a second. Because Matusz is starting his rookie season, and there's going to be turbulence. That's just how it goes. But there's no denying that his time has come, and that for better or for worse a lot of the Orioles' rebuilding plan rests in his left arm, and that makes tonight special. A strong performance – and a win – would wash the sour taste of the last two infuriating nights away quickly in time for tomorrow's home opener.
Thoughts:
Matusz saw the Rays once last year, walking none and striking out 7 in 5.1 innings at the Trop. Not surprisingly, the two batters that gave him fits were two of the biggest nemeses from our current series: Ben Zobrist and Evan Longoria. The Rays lineup is deep and powerful, but if any matchups could be considered "key", it'd be those two guys sitting three-four.
The Oriole hitters were terribly unlucky on Tuesday, stranding all of their baserunners. Rays starter Jeff Niemann is a solid enough pitcher, but unlike Matt Garza he will give up baserunners, so the lineup has a shot at redemption.
Not much sample to go on, but Brian Roberts has had the most success against Niemann in 20 plate appearances (1.500 OPS), and he's right back at the top of the lineup again, still looking for that first time on base. Getting Brian Bob going is probably your key matchup for the O's at the dish.
Orioles. Rays. 7:10
(photo by the insurmountable Keith Allison)