It Might Be Time To Boycott Utz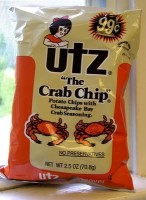 I can't even believe I wrote that headline. We're talking about Utz here, the finest potato chip in the world. A game-changing snack with regional roots and deep Baltimore ties. A part of life. When we think of chips, we think of our beloved Utz.
Might be time for that to change.
If that sounds like heresy, it should. It is. Yet it's no greater a sin than this: Utz is now the "official snack food of the New York Yankees".
You read that right. Our chips have joined ranks with the enemy. Gone to the dark side. Sold their soul. And in doing so have committed an indignity so vast that it shakes the very foundation upon which an entire region built its snacking loyalty.
It was bad enough when Mike Mussina defected. At least he — arguably — had a reason. But what did we ever do to Utz? What affront did we perpetrate that so offended their sensibilities? I can think of none.
No, this is something else. It is is snack food supplication at the altar of greed and venality. Something that even in my darkest moments I never imagined I'd live to see.
I'm torn between deliciousness and dignity. A choice that — let's be honest — no man should ever be forced to make.
It's hard to comprehend moving forward. On the one hand my mouth still waters at thoughts of the next Utz crunch. You can't erase it in a moment. On the other hand, the idea of that iconic red-white-blue bag in a Yankee Stadium luxury suite offends all that I believe to be decent and good.
Where we go from here is an open question, but I'll say this: it's your move, Martin's.
(hat tip on this to citythatbreeds.com)