Lessons From Spring Training 2010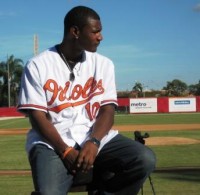 Not Much (In Many Ways)
With a couple of (frustrating) games between us and the end of Spring Training, we can look back with a nostalgic eye for the days when we were gnawing our teeth about the  struggles of some key players like Matt Wieters, Kevin Millwood, Brad Bergesen, Nolan Reimold, Jeremy Guthrie, and Nick Markakis. Markakis in particular got some venom for his appalling zero walks…but then showed us how foolish we all were by taking three already in the first two games. And once again we learn the important chronic lesson that Spring Training obviously counts for nothing.
We Might Have a Roberts Problem
Players with Brian Roberts' composition generally don't age the way you wish they would, and with Brian starting a big contract at 32 I was moderately concerned. That was before Roberts was sidelined with a back injury which he reportedly still hasn't completely healed from. There's no way to know how it's going to affect Roberts in the short or long term, but the risk in his big contract (not to mention the risk of losing his production) just crashed through the roof.
Felix Pie's Growing Up
The position player who looked by far the best in Spring was none other than the same guy who once forgot to throw the ball back into the infield. Yes, no matter who you ask everyone seems to think that Pie just looks like a baseball player ready to start to meet some of his great potential this season. With Nolan Reimold gimpy and not playing the best left field at the moment, Pie has the opportunity to put a deathgrip on the everyday job. Now, if only he could stay healthy and start to hit left-handers…
Brian Matusz is the AL's It Boy
He doesn't quite have the hype of Jason Heyward or Matt Wieters, but the national story about the Orioles was Matusz's absolutely sensational spring, putting him into the unlikely positional of AL East pitcher as Rookie of the Year favorite. He certainly has me eating crow about opposing his promotion last fall, and I'm more excited to see what he does tonight in the Trop than I was even for Opening Night.
Tejada's Working Hard
Miguel Tejada's first tour of duty in Baltimore was, as they say on the Facebook, complicated. There's no reason to get into the past, but how refreshing has it been to hear about Tejada working his tail off at third base getting ready for his most challenging season yet? I'm not sure what his defensive year is going to look like when all is said and done, and I suspect that none of us are going to be willing to accept that it was less than outstanding after we've all seen the sweat poured into the job, but I am cautiously confident that Tejada can and will put up some solid objective numbers.
Beautiful Sarasota
Finally, even I – who was admittedly an icy curmudgeon all spring – can't help but admit that the move to Sarasota has all the workings of a beautiful friendship. The staff, media, players, minor leaguers, and fans were all absolutely ecstatic and with good reason. And with the very talented Janet Marie Smith working to put up something truly beautiful, the Orioles are finally, truly trending upward in Florida. Will it help on the field in the regular season? Will it help bring in big time free agents? I can't say, but I also cannot deny progress when I see progress, and I see progress.
(photo)