Maryland Draws Houston in First Round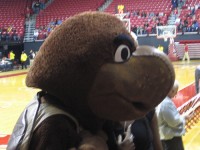 Our steely resolve in the face of great February turmoil is about to be rewarded.
Nothing beats March Madness. Nothing. The World Series and Stanley Cup finals sometimes come close, and occasionally the Super Bowl is interesting, but nothing tops the Tournament for year in, year out excitement. It's that much better when the Terps have a chance to do real damage.
Their journey this year starts with a four seed and a trip to Spokane, Washington to face the Houston Cougars. I don't see much upset potential there. Houston wasn't going to be a Tournament team before they made a surprising run to the Conference USA title (more on that here). They haven't danced in 18 years, and their overall record of 19-15 (RPI 144) hardly strikes fear.
The only way Maryland loses is if they come out flat. They've been known to do that in the past but it's a hard thing to imagine here.
Michigan State might be waiting in the second round. Those two met early in 2008, a game in which Maryland turned in a convincing 80-62 win.
In other local news, Morgan State drew a brutal first round opponent in West Virginia. A lot of people had the Mountaineers pegged for a #1 seed, and they seem poised for a deep run. Congrats to Todd Bozeman and the Bears for getting in but, damn, they're going to get destroyed.
(photo via)