Orange Balloons, Green Grass: It's Opening Day in Baltimore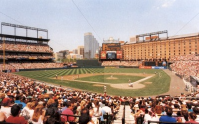 If I can be deafeningly obvious for a moment, let me just say that I love Opening Day in Baltimore. The huge crowd, the chill in the air, the feeling of imminent possibility, the tacky orange carpet, the bunting, the deep green and brown of the infield after a long gray winter. I feel like I can get swallowed up in it, and I want to; it's the one day of the year that it isn't hard to look at Camden Yards and remember Cal and Mike and Brady and Chris and Davey. It doesn't hurt that the Yard looks as good as new after its offseason facelift, and it doesn't hurt that this team has more talent than any other in recent memory.
Brad Bergesen finally makes his return to the mound in Baltimore after initially being listed as "day-to-day" on July 30 of last year. Bergesen of course was beginning to look like a serious Rookie of the Year consideration with his 132 ERA+ in 19 starts, but it wasn't to be. Can he repeat that success in Year Two? It all comes down to his control and his two-seamer, and to this point in his professional career he has always had both of those things working for him. I will say this though: it's a fine line to walk, relying so heavily on your defense and pinpoint accuracy – and Bergesen's Spring Training was less than encouraging in that regard. He walked a lot of batters and didn't keep the ball on the ground. But as we all know, none of that matters now.
The Toronto Blue Jays picked up a couple of wins in Texas behind a couple of hot bats in Vernon Wells and Adam Lind. Wells has been written off by a huge majority of the baseball world, so it'll be interesting to see if he's on his way back or was simply enjoying the cozy Ballpark in Arlington. Lind is a beast of player, coming off a career year and trending upwards.
Pitching for the Fightin' BJs is Brandon Morrow, acquired from Seattle over the winter, who hails from the AJ Burnett School of Power Pitching: lots of walks, lots of Ks. I'll look to the more patient hitters like Roberts, Wieters, Scott, and Markakis to lead the offensive charge today.
I won't be there, but if any of you are going know this: I'm insanely jealous. Happy Opening Day.