Orioles Lose…And It's Different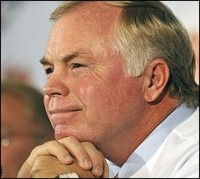 It was a fairly dismal result for the Orioles tonight at home against Seattle. 4-0 victory for the visitors behind Luke French, who carried a no-hitter into the sixth inning.
Kevin Millwood pitched well enough to win with one run and six hits over eight innings. Lack of run support, yet again.
Familiar story, no? Throughout the first two-thirds of the season nights like these were the norm. They beat us down and sapped our energy. Caused us to wonder about hope and whether having it made any sense at all. But answer me this: does tonight's loss feel like similar losses felt, say, two months ago?
It doesn't for me. Not even close.
We've had plenty of discussion here about the need to avoid anointing Buck Showalter as designated Team Savior. He's just one guy and his mere presence does not erase the team's overall shortcomings. This is true and worth remembering. But that doesn't mean his arrival hasn't had an effect.
The 10-5 record he's helmed is part of it, but not the part that matters. The biggest thing is the change in attitude and expectation. Simply put, the Orioles under Showalter are a different team. They still have a lot to overcome but Buck has done a lot to lift the dark cloud hanging over their heads and ours. The losses don't sting as much as they did before because the sense of real, positive direction remains.
Yes, yes, I/we said much the same thing about the arrival of Andy MacPhail. But if you think about it, that's not really a problem. We were hopeful when MacPhail arrived because we figured he'd fix things. We knew it wouldn't be easy and wouldn't come quick. Now, he's hired Showalter. That's part of fixing things. That's more progress.
It's a hell of a thing to have gone on this 2010 ride with the Orioles. High expectations to begin it gave way to a horrendous start and a slate of dashed hope. One manager gone, then another. Now, a new hope.
With that new hope comes less intense focus on the losses. They no longer feel like an avalanche. More like obstacles. Neither is desirable, but an avalanche buries you where an obstacle simply slows you down. The Orioles will be slowed down and challenged many times between now and whenever they return to winning baseball. Right now, though, it again feels like they'll eventually get there. Even when they lose.