Orioles: The Roster Takes Shape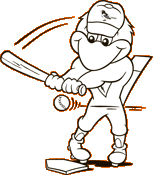 I almost feel guilty writing about this now, since you all have already covered it ably in the comments. That's the kind of discussion that reminds me why this site exists and gets me stoked for what's to come. You all are in mid-season form, and it's much appreciated.
In the interest of main page posterity, though, let's take it from the top.
Two bits of news leaked out today regarding the eventual shape of the Orioles' 25-man roster:
— Craig Tatum beat Chad Moeller for the backup catching spot
— David Hernandez beat Chris Tillman for the fifth starter slot, with Jason Berken heading to the bullpen
The catching decision is somewhat odd, but only because we all assumed it was Moeller's job. In reality it hardly matters, and if DT thinks Tatum is the guy then, hey, Tatum's the guy. Fine with me.
As you might guess, I like the Hernandez decision. Not because I don't believe in Tillman, of course, I just think Hernandez is the better choice right now. Maybe that's no longer true come May. We'll find out. Depth is always — always — good.
Roch also has some notes on further cuts but none of them are newsworthy. We've got a pretty good picture now of which 25 will go north.
Which begs the question: what do you think? Enough firepower to survive that grueling first month?