Orioles: Time For Change (But Then What?)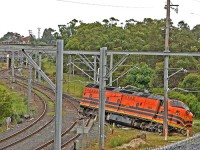 In one sense, I've reached a breaking point with the Orioles. The stretch of baseball that began with Saturday's epic ninth-inning meltdown and culminated with last night's rain-soaked surrender has been the worst I can recall. It's possible that this years-long run of losing reached its low ebb last night.
I'm convinced now that all or most of the coaching staff needs to be replaced, starting with DT and Terry Crowley. Not necessarily because they're bad at what they do (something we can never know as fans) but because the time has come for change. Change that sends a message and shakes things up. Change that ushers in fresh voices and perspectives. Change that fundamentally alters what has been a losing culture for too long.
I'm also on board with just about any personnel move Andy MacPhail deems necessary. I've reached a point where I'm willing to look past how much I like some of these players (or DT) and admit that whatever it takes, it takes. I suspect the braintrust feels the same way.
All that said, so what? We all want the team to get better. Then…what? What's the proper response to this situation?
There's always bitching and moaning. Standing on the sidelines with all the answers, declaring with righteous indignation that "they'd be better if only they'd listen to me." I think living that way is silly and pointless but that's me. Some people, it makes them feel good. I don't understand it but your mileage may vary.
For my part, I'll say again that the best response to the losing is to continue to support the team. Go to a few games and cheer loudly (or, as is my wont, get a Lucas Clap going). Proudly (defiantly?) rock the black-and-orange. Take what joy you can from this mess and discard the rest.
It's not that hard. Despite the conditions last night I still enjoyed myself. All it takes to do that is wanting to do that. Some do, some don't, but it's simple either way.
Whichever way you go, the baseball they play will improve. It just will.
(photo via)