Playing the Sox With Nothing to Spoil?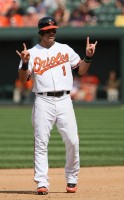 What an odd circumstance, no? The Orioles square off against the Red Sox for a late-season series and…virtually nothing is on the line.
Monday's win evened the season series at 8-8 (which is kind of amazing) and it's one more step towards a very satisfying finish. But I'm having a hard time wrapping my head around the idea that these games actually mean more to the O's than they do to the Sox.
At 83-67 the Sox have had their share of success. Any O's fan would take that record in a heartbeat, right? Yet it doesn't count for much because whichever team between the Rays and Yankees fails to win the division will almost certainly take the wild card. The Sox hold the fourth or fifth best record in the AL, depending on the day, but remain longshots to make the playoffs. Not that anyone needed more proof that this is the toughest division in baseball, but there you go.
We can look at this two ways.
On one hand, it speaks to the daunting task facing Showalter and MacPhail as they attempt to build a winner. Boston's always a benchmark, but getting to their level might not be enough to contend. Kind of depressing.
On the other, the Rays have consistently proven over the past few years that it's doable. And by "doable" I mean "the Orioles can do it, too."
We could get into talk about returning to a balanced schedule (which I support) or doing away with the idea of divisions altogether (which I might support). Until either happens we're stuck with what we've got. The O's need to compete for the division title.
Early returns on the Buck Showalter Era suggest that perhaps we're close. We'll see — we certainly could be. Of this much, however, I'm confident: everyone knows where we stand. Buck and Andy know. The current players know. The players who arrive in the offseason will know. And to a man I believe they will all take the task quite seriously.
I'm not sure we could have said the same last year at this time. Or two years ago. Etc. At least not with any degree of certainty.
(photo via Keith Allison)