Randoms (ver. 1/vol. 6)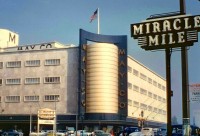 There's no way I could talk strictly sports tonight. Not after watching that Maryland–Michigan State game. An absolute heartbreaker. It would have been easier to take had Vasquez not led that late-game rally to put them within a buzzer-beater of the win. I'd rather lose by 20 than go down that way.
Such is March. The thrillers cut both ways.
— I'm with Dan on this one: Spring Training is getting old. I'll say, though, that I liked what Kevin Millwood had to say after his outing today. I dig the approach, I dig the attitude.
— Why didn't anybody tell me about Townes Van Zandt? I mean, I knew about him already but today was the first time I dug in and listened. Our Mother the Mountain is a hell of a record.
Which reminds me that I heartily endorse Lala.com for finding and listening to new music. They've got pretty much everything and you can listen to entire albums one time through for free as a preview. After that you can buy albums and/or individual songs for either web-only listening (which is a great value) or for both web and MP3 download.
If you click that link and sign up I get some credits for web purchases. That's a win both ways, but I'd recommend the site regardless of anything I might get out of you checking it out.
— A Continuos Lean posted some cool pictures of old-time LA (including the one attached to this post). This weather we've been enjoying has a very Southern California feel, and I think that if LA still looked like it does in those pictures I'd live there right now.
— Has anyone been to the National Museum of Crime and Punishment? Is it worth a visit? Sure looks like it.
This library of artifacts is amazing — dig the story of one murderous ice mallet.
— Great view of my favorite Orioles shoulder patch.
— Nice writeup on Mitchell & Ness, manufacturers of vintage sports uniforms. Courtesy of a recently discovered favorite, The Reference Council.
— I'm not sure what to make of the explosion of Tumblr/Posterous sites where people gather and post images. I have one of my own, though, and have started following a few. Endless me, in particular, has become a favorite. Motorcycles, race cars, pretty girls. Warning, though: some of the pics are mildly NSFW.
Rest. Be well.