Ravens to New England, Baltimore's Negative?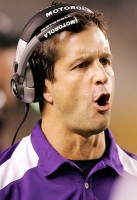 You would think that a second-year head coach making the playoffs a second-straight time with his second-year quarterback would be cause for celebration. You would think that this achievement might be seen for what it is: a difficult and significant accomplishment. You would think optimism could reign.
Maybe not.
In listening to some of the local sports talk offerings over the past few days I've noticed an emerging pattern. Rather than celebrating, a lot of folks seem to be moving in the opposite direction. Looking not at what has been done, but what hasn't. And using that "analysis" — such as it is — as evidence of why the Ravens can't win on Sunday. In a few cases I've heard, it's even been used as evidence of why they shouldn't actually be there at all.
My first reaction is that the people advancing this narrative are insane. The Ravens are far from a dominant team — they're not in the same league, right now, as the Colts or the Saints, for example — but they are in the tournament for the second year in a row. Something that, by the way, last year's four top seeds couldn't manage to pull off.
My second reaction runs a little deeper. I wonder what it is about so many fans in the Baltimore area that pushes them to the cliff. I wonder what causes them to focus so relentlessly on on what might not happen as opposed to what has or what could.
There's an obvious Orioles angle here, but I'm happy to admit that baseball's a tougher sell right now. I can at least understand some of the negativity there even though I find it excruciatingly lazy and tiresome. But being negative about the Ravens? Right now, as they prepare for a playoff game? Can't grasp it.
The team has holes, yes. Large ones. You could make a case for some dissatisfaction with the sophomore years of both Harbaugh and Flacco. You can complain about both the receivers and the secondary, and you can wonder why Terrell Suggs hasn't quite been the player everyone figured he'd be. All are legitimate points.
But come on. Now is not the time for that. Now is a time for excitement that the Ravens are in the playoffs, facing a team they have a fair chance of beating.
I feel bad for any fan who can't see it that way.