Roberts to Play, New Names and Faces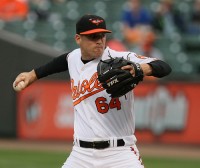 Birdland positively bursts at the seams today with good news. For the first time I feel like Opening Day is in reach, as slowly but surely Spring Training anxiety fades into the background where it belongs.
First up we have Brian Roberts, who will finally see game action on Friday. It is, as Schmuck notes, not a surprise, but I'm glad it's official.
I doubt Roberts will get enough at-bats to be fully ready for the season, so expect him to start slow. That's better than no Roberts at all. Looks like we might have dodged a bullet with the back issue, at least for now. I'll need to see him stay healthy all season (more or less) before I consider the matter settled.
Then came news via MASN that they've hired Eddie Murray, Brady Anderson, Mike Boddicker, and Ben McDonald to assist with color analysis this season.
Per the press release: The four former Orioles will rotate as color analysts in an occasional three-man booth throughout the season, each appearing nearly a dozen times on MASN telecasts and several more times on Orioles radio broadcasts.
I've heard Anderson and McDonald on the radio in the past and I think they'll both take to this role quite naturally. Keep an ear out for McDonald's thick southern drawl, if you haven't heard it already. Good stuff.
Finally, Brad Bergesen looked like, well, Brad Bergesen today against the Yankees. 5.2 IP with no runs and only three hits. The closer we get to the season the more those numbers start to mean, so I'm chalking this up as a good sign.
I'm feeling a fresh wave of optimism coming from…somewhere. Feels nice.
(photo via Keith Allison — dig that #64)