The Case for More Pie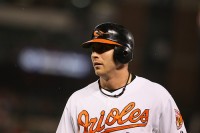 The left field position in Baltimore has often been cast as a competition between Nolan Reimold and Felix Pie (and to a much lesser extent, Luke Scott). It had been assumed that Reimold had won the spot with his outstanding batting line last year of .279/.365/.466, but you might be surprised to know that Felix Pie was more valuable (1.4 WAR compared to 1.0) with slightly less playing time. Not only that, but Felix Pie might pick up an even bigger advantage over Reimold in 2010.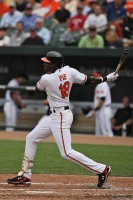 A lot of Pie's value last year came from his glove. It's tricky to definitively say that either guy is better than the other, but what I do think we can agree on is that you wouldn't play Reimold in center, but you would play Pie there. If center field is a harder position than left field, than how do you logically conclude that Pie is a worse outfielder? That's a little simplistic, but there's really little doubt in my mind as to who the better defender is .
But what I came here today to talk about isn't defense, it's offense. In 2009 Pie hit .266/.326/.437, which obviously isn't very good for a former top prospect with a career minor league line of .299/.355/.470.  But there are some very concrete reasons to suspect that Felix Pie is going to bring it with the bat going forward.
Last year Pie was the designated left fielder out of Spring Training, but quickly lost his job to Lou Montanez. He kind of disappeared, but then from July 22nd onwards, Pie played in 70% of the Orioles games and started 54% of them in the outfield. And he was great, hitting .290/.346/.497 compared to .234/.299/.355 before July 22nd. But the real question is why was Pie so much better, and can he sustain that into 2010?
Let's first examine some basic indicators from both halves of the year, and also from his minor league days:
| | | | |
| --- | --- | --- | --- |
| Category | Minors | First Half '09 | Second Half '09 |
| BB Rate | 7.4% | 8.4% | 8.0% |
| K Rate | 19% | 22.7% | 19% |
| LD Rate | N/A | 23.1% | 20.6% |
| FB Rate | N/A | 37.2% | 38.3% |
| GB Rate | N/A | 39.7% | 41.1% |
Notice, first of all, that Pie hit a lot of line drives. If he can keep his strikeouts down where they had been in his seven years in the minors, then those line drives should translate into a high batting average. You'll notice of course that in the second half of last year he did just that, and it did translate to a high batting average. If he could push his walk rate higher still (which is probably not particularly likely), he could maybe see an OBP in the .365 range.
But anyway, these contact rates don't really tell us anything. He more or less put the ball in play in the same general way, or so it seems. If the folklore of Pie working with the Crow and bringing a better swing to the table is true, he must have made some sort of better contact, right? It isn't as if his first half BABiP is the culprit here at .288 (which is low, but not enough to cover a 50 point rise in OBP).
The answer is in the quality of Pie's fly balls. In the early part of the season, Pie hit 24.1% of his fly balls as pop-ups to an infielder. He wasn't driving the ball at all. Look at this distribution of all of his balls in play: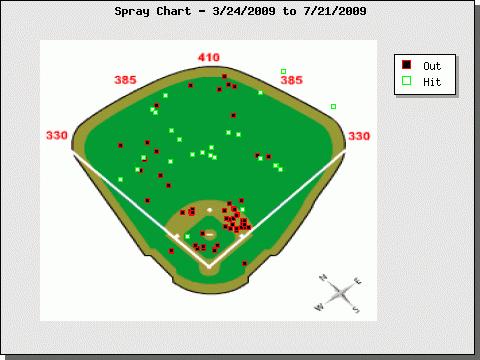 Compare that to the second half of the year, when Pie was on fire, only hit 2.4% of his fly balls to the infield, and sprayed his hits like so: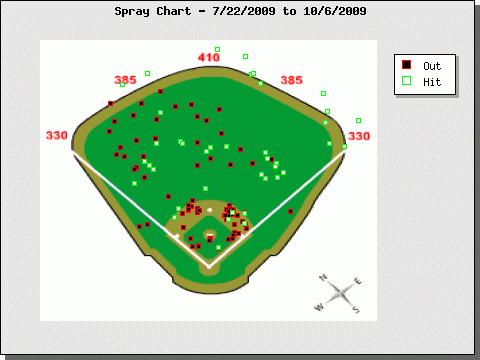 Look at that opposite field power now! Notice, too, that the only times that Pie pulled the ball he hit it deep and successfully. All very good signs indeed. I don't know what happened exactly to make Felix Pie become a really good hitter seemingly overnight. Maybe it was the Crow's mentoring, maybe it was getting more comfortable in Baltimore, maybe Luke Scott transferred all of his powers over to Pie like in that one episode of Lois and Clark: the New Adventures of Superman. I guess it doesn't matter how, just that we can clearly see that Pie is in fact a changed hitter for the better.
What does it all mean, in the end? Well, Pie may stand a very good chance at increasing his value as a left fielder much higher than Nolan Reimold, but don't get me wrong: there is very much a place for both of them on the Orioles. I absolutely love Nolan's bat (if not his glove) and could be a very happy camper with both of them getting as many plate appearances as possible. No, the point of all of this is just this: Felix Pie could be really, really good. He just needs to keep getting as many reps as possible out there – and he's clearly earned them.
(Spray charts courtesy texasleaguers.com)