The Depths of Cleveland's Misery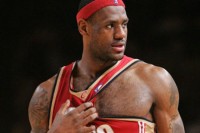 It's a rough time to be a Cleveland sports fan. The Indians — in town tonight for the first of three — are 13-19 and going nowhere quickly. The Cavaliers just got bounced from the NBA playoffs and may very well lose LeBron James to free agency.
Ahh, that. LeBron. "King" James. A pretty good basketball player. It'd make sense that the city of Cleveland would want him to stick around. Who wouldn't? But there's got to be a limit to how far you'll go, and Cleveland went way the hell over it. That's just sad. I'm not even trying to make fun or criticize — it's genuinely sad.
To the Cleveland fans out there, you have my sympathies. Unless you were a part of making that video, in which case you have my very deep concern for your well being.
That all said I hope the downward spiral continues here in Baltimore this weekend. Two more out of three would take another chunk out of the Terrifically Horrendous Start and represent some genuine momentum.
By the way, anyone going to the game either Saturday or Monday? Pretty good chance I'll be there for both nights. If you're doing likewise we should meet up.