The Tiresome Hate of Everything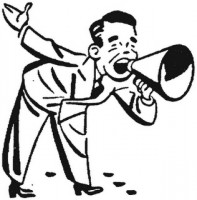 I came across a column last week that has to be shared. While not explicitly sports-related it is nonetheless entirely relevant.
In Why are you so terribly disappointing?, San Francisco Chronicle writer Mark Morford barrels head-first into an issue that sometimes keeps me up at night. To wit: our wonderful and burgeoning New Media conversation is in danger of running off the rails.
The column is quite worth reading, but if you don't have time the gist is this: there is entirely too much bitching and whining going on.
Not that you needed either me or Morford to tell you that, but I'm impressed with how well he makes the case. Particularly this passage:
Not only are we disappointed, we need to express it. Vent it. Hiss it and spit it and hurl it like fistfuls of mental manure at the great wall of hey, screw you.
As Morford points out, this attitude is everywhere. In blog posts and articles and, particularly, in the comments below them. Part of it can be attributed to the widely-held misconception that attention equals value. The fastest way to create attention is to stoke anger. People slow down to see the accident. The more gruesome it is, the longer their eyes linger.
Another part of it can be attributed to a growing idea that because something can be said, it should be said. That the existence of a forum is itself a reason to speak.
It is time — past time — to call bullshit.
I get frustration. And over a few beers watching a game (or whatever) I'm as likely to talk a little shit as anyone. Maybe even more likely. But those are moments of release, casual good times. It's nothing to build on.
Not "at least to me" or "in my opinion." It's nothing to build on. Full stop.
Criticism is good. Debate is good. But they are only good when they are well-considered. If they aren't, they obscure and water down the efforts of people who take the time to actually say something.
We're in the midst of a heavy transition. The means by which people gather and assimilate information are changing rapidly. In the process we've lost a lot of filters. In some ways that's a good thing, but it comes with a price.
Don't feed the trolls. An idea as old as the internet itself. It's time to expand that idea and understand that it includes anyone whose sole goal is to aggravate others or draw attention to him/herself. It's time to pay more attention to becoming curators of our own media experience, and to share what we learn.
That's the only real way to ensure the survival of quality content and the relegation of sub-par work to a dark corner where, if we do our job well, it will silently, finally, suffocate.
Wishful thinking? Probably. Every little bit helps.