Tillman? Not So Fast.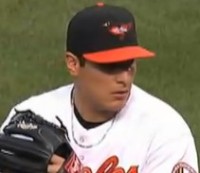 Presumptive fifth starter Chris Tillman might not be.
That's the word via Britt Ghiroli, echoed by Roch. An impressive performance by David Hernandez today (five shutout innings versus the Red Sox, including escape from a bases-loaded, no-out jam) put the heat on Tillman, who struggled Friday. Jason Berken has stayed strong, as well, and remains in the mix.
DT says they'll keep the competition open as long as possible and that no decision has yet been made. Don't be surprised if it goes down to the last day of camp.
If you want the "best five" opening the season, you go with Hernandez. He's got better stuff than Berken and has performed better this spring than Tillman. Given that all three were more or less the same in big league time last year, he's got the edge. He's also a few years older than Tillman and has more overall experience. It's in the minors, yes, but he's faced more batters.
That's the way I'd go, and part of the reason is I'm not sure that handing Tillman a spot is the right idea. I don't think it sends the right message to say "you were second, possibly third best in camp, but you're our guy so you get the job."
Looking at it another way, try to take Tillman's pedigree as a top prospect and set it aside. Try to imagine that he came into camp as Hernandez' equal. If that's the scenario, who earned it?
Tillman will get his shot. We all know that. There's no reason to force it, especially considering that we also know the O's will need more than five starters this year. Let him head to AAA and continue proving he's ready, then give him a spot when the time (inevitably) comes.
In the meantime, why not see what we really have with Hernandez?