Trompe Le Monde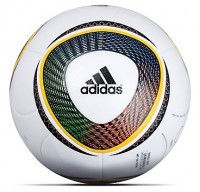 The USA attempts to do just that this Saturday at 2:30 EST in South Africa against the ever ballyhooed English side, who is again favored to make a deep run in the tournament.
What's most fun about England is watching the birth of national pariahs as they inevitably go crashing out every four years (providing they qualify). From Paul Gasgoine being tearily sent off to Stuart Pearce & Chris Waddle missing spot kicks in '90 v. West Germany, ('94 they did not qualify) to a carbon copy scenario in '98 where Beckham was dismissed v. Argentina for an unnecessarily snippy shot at Deigo Simeone followed by Paul Ince and David Batty missing from the penalty spot. England never fails to entertain with its spectacular failures. Hopefully they can add to the litany of sorrows this Saturday.
In a World Cup pairing that may never happen again, the empire and its mutant colony clash for only the 2nd time in the tournament's history. Both the US and England can lose this match and easily advance, but this is a game that has more do to with history and humiliation than merely advancing out of the group stage. In 1950 at the WC in Brasil, a semi-pro team of work-a-day American shlubs dealt heavily favored England its most crushing defeat since the Battle of New Orleans.
60 years after that improbable triumph, the squads meet again. The luck of the draw has given us the opportunity to see a rematch that was never guaranteed to happen. Despite the outcome, I'm thankful to have the opportunity to witness a US V England World Cup match.