I Still Love Adam Jones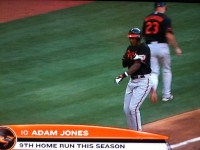 Of all the players who regressed, Adam Jones troubles me the most.
I want him to be a star, and I want him to do it in Baltimore. The Orioles need an outspoken public face to handle the duties for which quieter (but no less valuable) personalities like Markakis and Roberts are ill-suited. Jones should be that guy.
Yet he can only assume that role if his on-field performance justifies it. He has struggled mightily, and it's only logical to see that and allow a sliver of doubt to creep in. You start to wonder, Were we all wrong about him? Is he just another Larry Bigbie? I don't think so, but the struggles speak for themselves.
Ed. note: I'm an idiot. See comments.
Then he goes and does something that reminds me why I like him as much as I do.
The pic above (click it for larger version) captures a moment that reinforced my continued interest and spoke to how the win-loss record is not the sum total of what it means to be a fan.
As Jones came to the plate after hitting a two-run homer in the top of the sixth he emphatically pounded the "Baltimore" patch on his left sleeve before touching the plate. You can see video of it here.
It was a subtle gesture, for sure, but nonetheless potent. I read it as Jones saying, "I still have pride in my job and this uniform and I give a damn about representing them both." Maybe he wouldn't use those exact words himself, but that's how I take it.
It's often said that success lies in the attention to detail. There's a corollary to that, which is that in times of struggle the small things still matter. It goes back to what I said in the post about Nick Markakis speaking out: This team needs to get back to basics and Job One should be rediscovering some basic pride in playing the game as hard and well as they can.
I'm well past the point of indulging any kind of sugarcoating. We all know this season is a disaster and you won't find me arguing otherwise until they start playing better. If that happens at all. So right now what I'm looking for is how guys respond. Who keeps giving it his all? Who steps up? Who clearly hates losing, and who is going to stop being part of the problem and start being part of the solution?
He's having a rough year, yeah, but I still think Jones is part of that solution.