After Today, Maryland Basketball Will Never Be the Same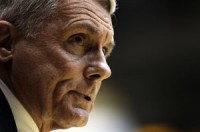 Awhile back my friend George and I got to talking about about basketball coaches. We wondered who we would have liked to play for if given the chance. My first choice was Bob Knight. Even though I think I would have hated him I think I also would have learned a ton. My second choice — and it was a close call — was Gary Williams.
I started paying serious attention to Maryland basketball in 1996. I remember playing pool in the UMBC game room and watching as the seventh-seeded Terps played a first-round Tournament game against Santa Clara. That particular contest ended in an upset loss but I've been a fan ever since.
Williams was a large part of the reason why.
Gary did it right. He coached hard and clean. He stood up for his players and his program. He did things his way. He was the kind of guy you could look at and say, "yeah, I'd follow him."
Along the way he authored one of the greatest two-year runs this region has ever seen, in any sport, with back-to-back Final Fours and a national championship behind Juan Dixon, Steve Blake, and Lonny Baxter. A run made all the more enjoyable by the fact that he did it basically without "blue chip" players (you could argue for Chris Wilcox). It was a marvel of coaching excellence and a hell of a special time.
That all said, even the most ardent fan should admit that in recent years Williams' approach had become more and more anachronistic. His unwillingness to play the AAU recruitment game meant losing out on most of the top-tier talent, leaving him undermanned and outgunned in the ACC and, when he got there, the Tournament. He still got the most out of the players he had and ran a winning program but the measure is not wins at a place like Maryland. It's deep tournament runs. With the loss of Jordan Williams this year it seemed likely that 2011-12 would be yet another Lost Season.
I bet you could drop Gary into the CAA or the Mountain West or the Horizon League tomorrow and he'd have his team winning league titles and going to the Tournament in no time. He can still coach. What he can't do — or, more likely, is simply unwilling to do — is adapt to the new ways of doing things. I don't think the game passed him by but I think the system probably did. In that sense perhaps this is, indeed, the right time.
The good news is that he left before his legacy could really be tainted. The past few years of mediocre results will be forgotten soon enough and we'll remember Gary Williams the way we should: as one of the finest NCAA basketball coaches of all time. That does little, however, to take away the sting of today's news. Losing Gary Williams means we're losing a link to a better time. Guys like him can't be replaced.
Maryland will land a top-tier coach to take the reins. It's too good a job for them not to. Whoever it is, though, will have some serious shoes to fill. Gary Williams is one of the all-time greats. We were lucky to have him.
(photo borrowed from here)