Being Right About Vlad Brings No Joy, Only Questions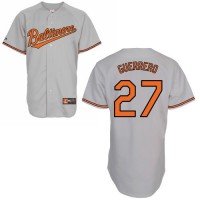 Back when the idea of Vlad Guerrero becoming an Oriole was only that — an idea — I wrote a post calling it a bad move. The gist then was that I simply didn't see it as prudent. It didn't make sense and I didn't think it would help the team win. They went ahead with it anyway, of course, and I signed on in hopes that he'd at least bring some Big Bat excitement to the middle of the order. Optimism was high in those days.
Today the team is on pace for an utterly disastrous finish and Guerrero is…well, he's here. That's about all you can say. He hasn't been terrible but to call his numbers middling would be more than fair. His .276 average, 10 HR, 41 RBI, and .702 OPS offer little in the way of inspiration. They are, rather, typical numbers for an aging slugger in the late autumn of his career, a one-dimensional player without much to offer for a team that isn't contending.
That Vlad didn't arrive here and transform the Orioles lineup shouldn't be a surprise. That he didn't make an impact on the win total shouldn't, either. But there is a takeaway from the experiment, and it comes in the form of a question: will this be what the Orioles braintrust needs to finally learn their lesson?
Guerrero's time here — coupled with that of Derrek Lee — amounts to a fairly clear indictment of the "aging veteran" strategy. Players like that have roles in MLB, for sure, but those roles don't fit losing/rebuilding teams. In particular, they definitely don't fit the Orioles.
Which is not to say that the team doesn't need to add veterans. They clearly do. But they need to add guys with some "in their prime" left, however that might happen. Smart trades, smaller-name free agents, even maybe minor league free agents. But no more Vlad Guerreros. No more Derrek Lees. No more guys with name recognition and little else. No more rolling the dice on a late renaissance. Enough.
It's hard for me to imagine that MacPhail and Showalter haven't learned this lesson. That said, a lot of things have happened with this team that I would have once characterized as "hard to imagine." I can only say that I know this: if the 2011-12 offseason features even one Guerrero-style move, we'll all have to face some very uncomfortable truths next April. Cross your fingers.