Here's To Kevin Gregg, and Here's To a Sign of Life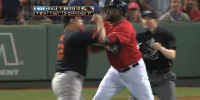 Perhaps the thing I love most about baseball is the game's capacity to remind us of itself. To remind us that, no matter how much we think we've figured it out, there's always something else waiting.
Take last night's brawl between the Orioles and the Red Sox. If we had taken bets before the game on which Oriole would finally say "enough is enough", how many of you would have said Kevin Gregg? Exactly. Yet there he was, giving David Ortiz a taste of what he ought to get a hell of a lot more often than he does. Old-school baseball.
I know the game has changed. I know we'll never again see a career-ending home plate collision in an All-Star game a la Pete Rose and Ray Fosse. I know we'll never see a pitcher go to the mound intending to hit every batter he faces (RIP, Dock Ellis). But we still need a little bit of that attitude, especially when things look as bleak as they have for the Orioles lately.
There's always a chance that last night's brawl was more than just a brawl. Maybe we'll be able to look back on it a few weeks down the road as the moment when the O's shook themselves out of the funk. But even if a brawl is just a brawl — even if they lose 8-4 tonight and look every bit as listless as they have — that's OK. They gave me something to cheer for last night, and in doing so reminded me why I love the game and why, if I give up, it's my loss.