Jai-alai: The World's Greatest Spectator Sport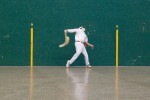 I've traveled some. Most of that travel has been work related, and because of work I've managed to miss out on discovering some live sporting events that I really would have liked to see. I didn't get a chance to catch cricket in South Africa, baseball in Japan, or football in England, and more's the pity.
I've seen some peculiar sports…harness racing, ocean racing, even went to a NASCAR event once. For pure curiosity though, nothing tops jai-alai.
On a trip to South Florida a few years ago, I had dimly remembered that jai-alai even existed, and so was almost a little surprised and baffled when I first encountered the fronton at Dania Beach. It's a very large building, set apart in its own parking lot with some 1970's design elements and no windows to speak of. It almost looks like an old bowling alley blown up to the proportions of a convention center. It's the kind of building that when you pass by it, you almost have to come in for a closer look.
I am the sort of person who, once I found out that the building was a jai-alai fronton, I knew immediately that I absolutely had to see some people play jai-alai. This was at 4 pm. At 7:00 I was back inside reading the program, guessing at my bets and waiting impatiently for the game to begin. Jai-alai is often likened to horse racing, with a similar betting structure and fan base, but sitting there the thing that struck me was how much like theater it is. The seats are exactly the sort that you would find in a theater, and the cancha is exactly like a large stage. The pelotari come out in a line and give a little bow, just like the cast of a play, and then they played the national anthem, followed immediately by a little basque ditty.
The game began, and I found that it really was pretty fast, but simple enough for a novice to follow without much difficulty. It wasn't until around the end of the first game that I saw the true beauty of the fronton…that jai-alai is the best sport ever for hecklers.
It should be said that I come down squarely in the pro-heckling camp. I've never minded a little jeering at the ballpark, and I'll be the first one to cuss a horse if he loses me a buck. Horses can't hear you though, and if they could they wouldn't care. Even if ballplayers can hear you from your seats, most of the pros do a yeoman's job of pretending that they can't. In jai-alai though, there's no pretending. All the seating is general admission, so you can sit as close to the court as you like. As I say, it's a theater of sorts, so imagine sitting in the front row of the Hippodrome and being able to yell directly at the actors. That's what heckling is like in jai-alai. I was just sitting there enjoying the show when at the end of that first game I heard "Hey Rickey, go stick that cesta right back in your mother's ass! It's not doing you any good, is it?
And from there it was on. There's a small but dedicated corps of fans who show up to watch live jai-alai regularly. They know the game inside and out. They know the pelotari by name and reputation. They call them out for bad throws and missed catches in the most vulgar terms possible. For their part, the players aren't afraid to give it back to them in the form of lewd gestures, and even approach the safety net separating the cancha from the spectators. Referees are charged with keeping the peace as well as officiating the game. The insults and diatribes continued for close to three hours, and I never once ceased to find it hysterical.
As of now, the plan of my career path is to retire at 65 and move to Dania to sit on the beach all day and join the corps of jai-alai hecklers every night. If you need any more convincing that the Merry Festival is the greatest spectator sport known to man, then you should understand this: the Dania fronton has a full bar next to the court, and all of this heckling was fueled by two for one drinks.
(photo via)
Ed. note: make sure to visit the author of this post in his native environment at The Baltimore Chop