Joe Flacco is Not a Great Quarterback (and That's OK)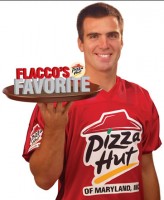 Joe Flacco is a good quarterback. For his career so far he has 79 TDs to 46 INTs and has completed roughly 60% of his passes. In games he has started, the Ravens have won a lot more than they've lost. 43-20 in the regular season to be exact and, interestingly enough, 4-3 in the playoffs. There's a "bottom line" kind of assessment to be made anytime Flacco comes up and that assessment is simple: he's good. Maybe even very good. Certainly no worse than capable.
You would think, given Baltimore's spotty historical record at QB, that Flacco would be (to quote) carried in the arms of cheerleaders. But he's not.
Instead, he's a constant topic. Radio callers and internet denizens alike wonder loudly and often whether or not Flacco's "the guy" who can win this town another Super Bowl. They wonder because they look at Flacco and they don't see the things they see in quote-unquote franchise quarterbacks like Ben Roethlisberger, Aaron Rodgers, and Tom Brady (among others).
They don't see these things because these things do not exist. Flacco is not one of the best quarterbacks in the league. Anyone who's watched him play over the past few years knows as much.
But let's be clear about something: only a handful of QBs are truly great, truly elite. The fact that Flacco isn't top-five or arguably even top-ten shouldn't be held against him. It's time for Ravens fans to realize that very good can be good enough.
Anyone waiting for Joe to "take the next step" and become a top-tier guy is waiting for the wrong thing. That's not who he is. The expectation should instead be that he does enough. Because when he does, and when Ray Rice and the defense and the coaching staff do likewise, the Ravens are hard to beat.
Joe Flacco can't put the team on his shoulders and send them to February with sheer will and talent. But so what? Most teams don't have that guy. And even some that do — looking at you, Patriots — have such severe shortcomings in other areas that they're not much better off. Ravens fans should be happy that they have a team built to win and a quarterback who can handle being a player in that scheme, even if he's not capable of extraordinary things all by himself.
The Ravens might not win the Super Bowl this year. If they don't, though, I highly doubt it will be Joe Flacco's fault.