Man Caves, Modern Life, and Room Design Sensibility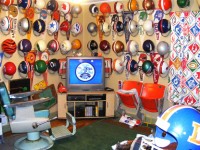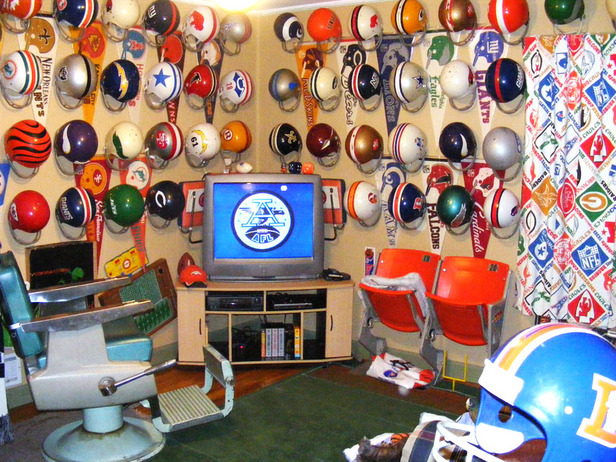 Once upon a time in America the family used to gather around the TV and watch together. We'd all sit in the traditional family room and have family time and all was well and good. Today, that's not so much the case anymore. With the explosion of content outlets like Hulu, Netflix, and iTunes, Viewing habits have become intensely personalized and owning an actual television isn't even required anymore. For those of us still watching televisions, having at least one TV per person in the household has become the new norm, and one per room is not unheard of.
For the sports fan, this change in viewing habits has led to a phenomenon that was virtually unheard of a generation ago: the Man Cave. As homes have become bigger and modern lifestyles have changed, men nationwide have begun cordoning off finished basements, spare bedrooms, and even garages as strictly masculine space. Major League Baseball has even made the concept the centerpiece of its marketing for the 2011 season, holding some guy hostage in Manhattan and making him watch 2430 baseball games Ludovico-style or whatever they're doing up there.
If you're the type of guy who aims to build a man cave in your house, then more power to you and good luck with it. May you have the 70″ TV and the giant recliner and the built-in beer fridge and everything else your manly heart desires.
For the rest of us though, our rooms should have a little more balance to them. I live alone with rooms to spare, and could easily give one over to being a man cave. Personally though, I never saw the point in it. I know I'm a man. The life that I lead is pretty well manly. I don't need a dedicated room to remind me of that fact. Our rooms should be a reflection of ourselves, and any time a room begins to take on a "theme" it reflects bad taste in design. Themed rooms can't help but look trite and tacky, and can easily become cluttered and junky.
Anyone who spends a lifetime watching and loving sports is bound to end up with at least a little bit of memorabilia. It can be a tricky task to walk the fine line between displaying and appreciating sports-related objects, and being buried under and suffocated by them. If you keep these tips in mind though, you'll be able to collect to your heart's content without your house looking like a baseball card convention.
Have plenty of storage. Just because something is collectible and worth saving doesn't mean it must be on open display at all times. The more things you're willing to keep in the attic, the cleaner and more streamlined the rest of your rooms will be.
Only display one of a type. A bobblehead on your desk can be whimsical and fun. A dozen bobbleheads on your mantle is just creepy and tacky. Keeping too many of anything on display is a sure way to ruin decor.
Only display things that actually are collectible. Maybe you've got a team-signed ball, a stadium photo and that bobblehead. These are all well and good until you bring in the team-logo blanket and the World Series coaster set. That's where things start becoming overwhelming. Be sure that your everyday household items are non-sports related.
Have shelf space. Lots of it. Four or five items ranged across the mantle will start to look like clutter, but the same items spread over several feet of shelf space on more than one wall will look more like a cohesive design aesthetic. Built-ins work best.
Make an effort to bring in non-sports items. I mean the kind you'd buy in a department store. The idea isn't to have your place looking like the inside of a chain restaurant, so skip the road signs and old beer bottles. Be sure to keep some glassware, pottery, original artworks, or some other visual interest in each room.
The smaller the better. A baseball on display won't dominate a room. On the other hand, a basketball probably will. There's virtually no way to integrate a framed jersey into a normal room design, but a framed baseball card can work on a wall, an end table, or just about anywhere else. Items like photos and coffee table books can bend to just about any design scheme, but a signed hockey stick won't fit anywhere but a man cave.
Where do you stand on the use of memorabilia in decor? Do you have a man cave in your house? Would you want one? Have you got a favorite piece with special significance that would have to be a feature in any place you lived? Tell us about it. Let's hear it in the comments.
Ed. note: this is the second guest post by The Baltimore Chop, whose own site is highly worth a visit and a bookmark.
(photo via)