Milestone: Loss Column Comment #20,000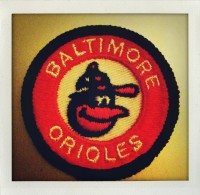 I'm not sure I can fully wrap my head around this, but here's a fact: The Loss Column is four-and-a-half years old. We've been publishing news and views about Baltimore sports (and other matters as they come up) for something like 54 months.
In that time I've gotten married, one of my best friends had a kid, the Orioles have had four managers (if you count Juan Samuel), America transitioned from Bush to Obama, the Ravens canned Billick and hired Harbaugh, and we all lived through one of the worst economic crises this country has ever seen. To name just a few.
The site itself has grown, receded, grown again, changed. We had some fun with the "Take Back the Yard" rally. We went through a significant redesign. We've had epic conversations about the teams we love. I managed to get myself on the radio (thanks, Fighting Ungers and Michael Popovec). We learned that Pain Don't Hurt.
I've met a large handful of great folks along the way on both a personal and professional level. Pretty good run, for sure. I can't think of a single significant regret.
And now we've reached one hell of a ridiculous milestone: 20,000 comments.
Andrew, formerly of Rochester, became the guilty party when he checked in on 02/09/11 at 6:29 PM. No fanfare or balloons falling from the ceiling but there it is.
As promised, there is a reward. To wit: one vintage O's cartoon bird logo patch (pictured above, about 1.5 inches wide) and a six-pack of Dogfish Head 60 Minute IPA (or the beer of your choice if that doesn't strike your fancy).
It's nice to take stock, and the plan as far as I can see it is to stick around to maybe see where we're at when we hit 30k. I'm amped about the upcoming season and I'm excited to have TLC be a part of it.
All credit goes to you, the reader. Thanks as always for your time, your attention, and your contributions. You're the reason this place exists and I hope you'll continue to be that in the coming weeks, months, etc.
Happy Spring Training/Valentine's Day.