On J.J. Hardy and How To Build the Orioles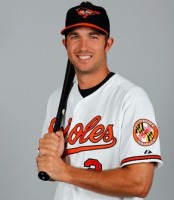 The ink is dry (or soon will be) on an extension to keep J.J. Hardy in Baltimore. How one feels about this is entirely dependent on how one feels the O's should go about cleaning up the mess in which they find themselves.
One argument holds that the extension is a good thing because it locks up a quality player in his prime who fills a need. If Hardy left, that would have meant plugging the shortstop hole yet again. And, probably, one more time before Manny Machado is ready. Assuming, of course, that Machado sticks at short and doesn't ultimately become a third baseman.
On the other hand, Hardy represented a bargaining chip that could have brought two or three young prospects in return to help stock a farm system that needs all the help it can get. That option is now off the table and MacPhail has less to work with at the trade deadline as he seeks to right the ship.
I pitch my tent in the "good deal" camp. I'm always a little weirded out by the mentality of "trade every valuable chip" because the first thing I think of is, "what next?"
Think about it this way: if Hardy should have been traded, wouldn't it make just as much sense (and more) to trade Adam Jones? Or Nick Markakis or Jake Arrieta? If the thinking is "let's trade the guys who will bring a strong return" then you have to go all the way.
Do that and you end up with a potentially awesome farm system at the expense of the actual Orioles for two to three years. I can see the argument, but I'm not signing on. "Prospects" are just that until proven otherwise. I'm fairly tired of waiting.
No, Hardy needed to stay. Just like Jones and Markakis and Arrieta (and Matusz and Britton) need to stay. The guys who are young or in their prime — who fill needs and have proven that they have something to offer — need to stick around. There's no point in getting rid of proven, needed players and hoping potentially good players can replace them in a year or three. We need smarter thinking than that.
I'd like to see the Orioles build by holding onto strong contributors while trading guys who can potentially be replaced with decent or semi-decent internal and/or free agent options. Along the same lines, I'd also like to see them become more willing to trade prospects of their own for solid major leaguers.
You want to trade Oliver Drake? Josh Bell or Jim Johnson or Chris Tillman or Koji? Or Nolan Reimold, as much as I like him? OK. Let's see about the return. Those guys don't hit us at the top level. If another team sees value then the move makes sense.
(Side note: the move always makes sense if the return is spectacular. I'm only talking about normal deals here.)
It's easy to trade guys with value. It's likewise easy to hold onto guys too long, or hold onto the wrong guys. The nexus of when and who is where smart teams get better and bad teams get worse. I'm no longer convinced Andy MacPhail is solidly in the former group, but I'm fairly certain that holding on to Hardy doesn't put him in the latter. The price was right to keep a solid contributor and MacPhail did that. As long as the right moves can be made around it I think there's a good chance we look back and call the extension a win.
I am, admittedly, assuming a lot there. These days you can't really project an optimistic future for the Orioles without making a few potentially suspect leaps. So it goes.