On the Orioles' New Uniforms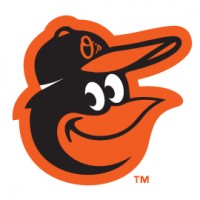 Yesterday's uniform unveiling wasn't on par with three years ago (by the way: how the hell has it been that long?) but it was interesting enough: the Orioles unleashed a fairly significant set of uniform tweaks, including the much-desired (by some) return of the Cartoon Bird.
I tend to be quite interested in uniform news and this, obviously, was no exception. The verdict? It'd be hard to complain about these…but I don't love them.
I'm probably in the minority in that I'm bummed about abandoning the "ornithologically correct" bird logo. I don't see the cartoon bird as an upgrade per se. The old bird was utterly unique among professional sports logos. It was realistic and willfully under-designed in an era when most teams tend toward ridiculously overdone action graphics and/or pseudo-classic treatments. For years the Orioles' look stood alone and I loved that.
That said, they handled this smartly. They went retro with a modern update but didn't go overboard into kitsch. They still look both classic and classy and the logo doesn't look like it was designed in any particular year, which means it won't soon feel dated. They didn't screw this up at all and that in itself is refreshing as hell. Still, going retro feels strange.
My hunch is that they had a desire to continue the path they started on by putting "Baltimore" back on the road jerseys and further cement the heritage connection. I can't argue with that, but I also can't fully endorse it.
On a more philosophical level, let's assume for a moment that the change was made in part because of the fact that the old look was — let's face it — associated largely with losing teams. I think we could make an argument that looking to something entirely new would actually have been better than looking back. I'm all for heritage and I love retro looks, but why not save them for special nights and promotions while pointing the way forward with the everyday unis? That would have been a tall order, for sure, and I think they probably recognized that. Still…
Add it all up and I think the change merits a solid B-. A slightly better than average move. Not bad by any stretch, but not great. Which, given the way the last 14 years have gone, is probably just fine. Baby steps.