Orioles 2011 Outlook: Outfield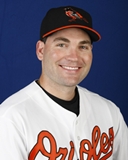 Where the hell did March go? I glance at the calendar and see there's more Spring Training 2011 in the past than there is in the future. That doesn't seem right.
But it is. So now's the time, as a result, to start our series of outlooks/predictions/assessments for the various elements that will determine success or failure for the Orioles in 2011.
First up: the outfield.
It's not as clear today who the starters will be as it was back when pitchers and catchers reported. Nick Markakis and Adam Jones remain ensconced in right field and center. Left field is something of a question mark. The job was supposed to go to Luke Scott, with either Felix Pie or Nolan Reimold penciled into the fourth spot. As of today, though, Derrek Lee has yet to play a game at first. Should he miss regular-season time, Scott would likely be ticketed to first base, which would mean that Reimold and Pie likely both make the team out of camp.
Still, it's safe to assume for now that Scott will the the regular (or semi-regular) left-fielder and that either Pie or Reimold will serve the backup role. Let's start there.
Reimold has had a great spring so far, hitting .318 while getting on base at a .444 clip, slugging .523, and hitting two home runs with 9 RBI and 23 total bases. Pie, on the other hand, is hitting only .205 with a .222 OBP, .250 slugging percentage, and 11 total bases. Both have 44 at-bats.
Numbers, however, don't always mean much in spring training. Reimold, for example, has an option remaining while Pie doesn't. There's also the question of defense, on which I have no reliable info. Then there all of the intangibles to which fans don't have access but which nonetheless play a role in Buck Showalter's decision making process.
I've always liked Reimold but I'm not sure it matters who makes the team for Opening Day. The guy who deserves the job will earn it eventually. I'm fairly confident that either of them will turn in a serviceable year.
From Scott I expect good things. He's got more protection in the lineup than he's ever had and he's assured of a regular role in the field. I also expect that he will, like always, be streaky. That's who he is. Which is to say that I think we'll like him on the whole this year even as we go through weeks where we wonder just what the hell he's doing.
Markakis is easy. He's going to have a good year. I'd like to see the power numbers go up but other than that there's nothing to complain about with Nick.
Jones is a question mark. I pegged him for a breakout year in 2010 and it didn't work out. He struggled quite a bit before pulling things together and salvaging a respectable campaign. I want to say here the same thing I said last year, which is that this guy is going to emerge as a true star. But I can't honestly make that prediction. He's in a position where it's time to step up. Time to get consistent and time to live up to potential. My heart says he'll do it, my head says "wait and see."
Overall the team is clearly in a favorable position when it comes to the outfield. There's talent and a bit of depth, which is all you can ask for. I'm not worried about any of these guys letting us down. If there's a worry, it's that one or more of them might get stuck in "decent" where we're hoping for and counting on "good."
Having lived through Luis Matos and Larry Bigbie, I'll take where we're at.