Orioles: Andy MacPhail Out?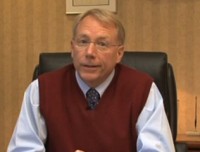 If this report from Bob Nightengale at USA Today is to be believed, the writing is on the wall for Andy MacPhail. Word is that he's on his way out.
I see no reason to doubt this for now. The quotes in the report (from MacPhail and Buck) don't dispute the claim, they just kind of dance around it with a wink and nod. That and, well, it makes sense. There can be no argument that MacPhail hasn't accomplished all he set out to do here, despite some successes along the way. Four years is a long time.
I find myself feeling oddly ambivalent. There's a certain shock to it in the way that all Big News is shocking, but that's followed by…well, not much. Fatigue, mostly. I have a hunch many of you and much of Birdland might feel the same way.
Regardless, the question now becomes: what next? Or on a more granular level, where are the trend lines headed?
Buck is here and I don't think there's any doubt that he's putting his stamp on this team. I'm sure he'll not only have a hand in hiring the next GM but also in helping shape the strategic direction. That's the good news.
Bad news is, instability and uncertainty are almost never good. Every stop and restart on the things MacPhail put in motion means more time spent. Every bit of reevaluation means more potential for things getting worse (again) before they get better.
The optimist in me — the one that gained a reputation around here for being too positive — looks at a fresh start as a good thing. Results are results, after all, and MacPhail hasn't gotten them.
The realist in me, however — the one that has gained more and more traction in recent months — says that it hardly matters unless folks in the Warehouse have finally and truly recognized the need for a sweeping change in culture.
That's what is needed, above and beyond a new face or two. Until they say "enough" and revamp their entire approach from top to bottom, things won't likely change much.
I'd bet Buck gets that. I'm sure the players get it. I'm equally sure that there's a faction within the organization that likewise gets it. That kind of organizational course-correction, however, is terribly difficult. Unless the new GM is hired with a clear mandate to implement it we're likely to be underwhelmed.
Cross your fingers, I guess. I wish I had more encouraging words than that.
Related: I wonder how much of this is MacPhail's decision and how much came from above. Is he worn out, perhaps? Or is this a way to engineer a graceful exit for a loyal soldier who deserves better than being "let go"? We might never know.