Orioles: If We Can't Laugh Now, All Hope Is Lost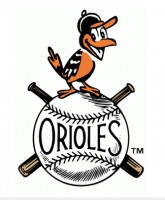 So the Orioles thought maybe they had their hire in Tony LaCava, by all accounts a highly respected baseball man. Many pundits predicted he'd be on board by today. Then, he wasn't. Something went wrong. Again.
The spin machine is up and running (warning: Baltimore Sun link) but nobody in their right mind believes that's the whole truth. There's no way LaCava gets as deep into the process as he did if staying in Toronto was that important. Sure, it's probably true that staying at a job he likes weighed heavily on his decision. Clearly, however, there's more going on.
Odds are we'll never know what "more" truly is. Plenty of folks will speculate, of course, but situations like this rarely lend themselves to easy outside analysis. Lucky for us, it doesn't matter. The public-facing side is bad enough that the "why" is almost irrelevant. It's a disaster.
This kind of thing doesn't happen to solid, stable organizations. It doesn't happen to organizations for which the future can reasonably be expected to resemble something brighter than the troubled past. LaCava himself pointed out that there are only 30 of these jobs available and that's why he entertained the process. For him or anyone else to turn down that chance speaks volumes. It's yet another black eye for the organization and for us, the dwindling ranks of died-in-the-wool fans.
So, what now?
As far as the team, one of three things will happen. They could get lucky and land another guy of LaCava-esque stature and move on from there — I give this a 30% chance. They might shift gears and land a younger up-and-comer — I give this a 15% chance. Most likely — I give this one a 55% chance — they end up with a second-tier candidate who is happy to get the opportunity and, as such, is willing to look past the things LaCava couldn't.
Regardless, for fans, there's good news. There's a clear and simple path to sanity: laugh and enjoy the ride.
I'm not kidding. Now's the time to step back and simply marvel at the sheer ridiculousness that is your Baltimore Orioles. Because, here's the thing: you have no alternative. Despair is unbecoming and quitting is not an option. Hope, at this stage, is a threadbare notion at best. No, the only option remaining is the one I've more or less been advocating for months. Take a step back and take things as they come.
They're going to play baseball next year. They probably won't be very good but who knows? In the meantime we've been gifted a circus.
I know this sounds ridiculous to many of you. Give it some time, however — and be honest with yourself and with what you really want from baseball — and you'll realize it's the only reasonable course of action. For now, at least.