Orioles Sign Guerrero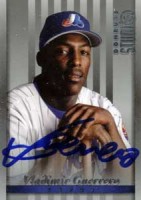 As has already been discussed a bit in the comments on the last post, reports are out tonight that the Orioles have agreed to terms with Vlad Guerrero. The damage is said to be $8 million for one year.
I'm not going to back off on what I've already said: I don't like the move. I'm not convinced it makes the team better. With that said, I don't know that it makes them worse, either.
But you know what it feels like to me? 1998. If you recall, that's the year we took fliers on Joe Carter and Doug Drabek. I realize there's one huge difference here in that Guerrero had a good year last year while Carter and Drabek were both pretty clearly done when we brought them in. Still, there are echoes. In each case we're talking about bringing in an aging "name" veteran on a bloated contract and hoping he has enough left to contribute.
Maybe Guerrero does — this is certainly a smarter move than Carter or Drabek were. Maybe it's even a subtle stroke of genius in that he could be flipped for an upper-tier prospect after a good first half. Hell, maybe he has a fantastic year and the O's are still in contention for the Wild Card come August. All of these things are possible.
I'm not against being excited by "maybe." I do it every year with the O's. But if I'm going on "maybe" I'd rather it take the form of Pie and/or Reimold.
In time, though, I'm sure I'll grow to be OK with this move. Maybe even embrace it. As I said above, I don't think it makes the team worse. If I had to bet, though, on whether we look back on this in July and love it, I'm betting we don't.