Prediction Time: How Many Games Do the Orioles Win?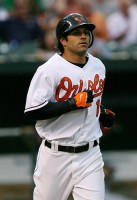 We've tossed this around plenty in the comments, but now that Opening Day is basically upon us it's time to go on the record. The roster is set and we know what we know from Spring Training. So let's have at it: how many games will the Orioles win this year? And why?
I've been saying all along that I think this is the year they get to or break the .500 mark. I'm pretty sure I said the same thing last year, though, so take it for what it's worth when I say that I'm in for 83 wins. On no level do I think they're ready to contend or make serious noise, but I believe they'll win more than they lose.
The "why?" is a little more complicated.
To that end, here are two reasons I think it will happen followed by two things that could derail it.
Reason "Why" Number One: Buck Showalter
Pretty obvious, no? Sure, managers don't win games. But leadership and organizational culture both play a huge role in making wins happen. Buck brings those in a way we haven't seen for some time.
I really can't stress that enough. There's no way to effectively quantify the value of leadership and culture, but every successful organization — in sports or elsewhere — comes strong on both counts. The O's will benefit from it. No question.
Reason "Why" Number Two: Runs
This team should, in theory, score runs. Many of them. The O's suffered a negative run differential last year of 172. We should see a much better outcome this year, and it'll be reflected in the win-loss total.
Reason "Why Not" Number One: Injuries
This starts with Brian Roberts, of course. Losing him again would be a killer. But it's also about the bigger question of depth. We know Lee and Guerrero, for example, will probably miss time, along with any number of other players. A week or two here and there is one thing, but a month or two is something else entirely. These Orioles don't have much margin for error and significant injuries would change the outlook in a big way.
Reason "Why Not" Number Two: Pitching
Simply put, the young pitchers enter this season bearing a huge burden. We're screwed if they don't step up. My hunch is they will, but I reserve the right to enact a downward revision on my win prediction if they struggle.
So, what about you?
The comments are open for both your win total prediction and your reasons why/why not. It's time to sign the document.