Realignment: A Good Idea, Much Needed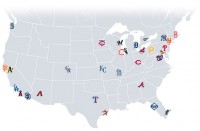 While the idea is by all accounts far from actual implementation, it warmed my heart just a bit to see that MLB and the players are openly discussing the possibility of realignment. It's an idea whose time has not only come, it's past due.
Most of the talk about competitive imbalance in baseball tends to revolve around the need for a salary cap, and that's as it should be. Baseball suffers for not having one. There is, however, no chance of that happening. Not without some kind of catastrophic disruption that gives the players no choice (something akin to the NHL lockout). Realignment, however — coupled with ditching the unbalanced schedule — would help almost as much.
It'd level the playing field by making life harder on teams in easy divisions and better for teams in heavily weighted divisions. Over 162 games under a more level competitive structure we'd know for certain that the teams who make it into the playoffs truly deserve to be there. And we'd no longer be able to point out that the Orioles would be a playoff contender if you dropped them in the AL West. Win-win.
That said, I'll grant that not everyone might agree that the competitive balance angle is an issue here. Fair enough — it's certainly debatable. So here's the secondary argument for realignment and a balanced schedule: constantly being subjected to the Orioles playing the same teams over and over again is lame. Not only does it get boring, but it deprives fans of the chance to get a full sense of what else is out there. I'd love more games against teams like the Indians and Mariners and Twins for the simple sake of variety. Who wouldn't?
And, oh yeah: fewer invasions of Yankee/Red Sox fans. Reason #3.
One argument I won't make is about how bad the Orioles have been over the past 13 years. This isn't about that. You compete under the rules as they are, not as you'd like them to be, or else you don't compete. No, the issue here is fairness on a game-wide level. In that regard baseball has been coming up short for years.
As much as I'm ordinarily a staunch advocate for tradition and heritage, not everything always has to stay the same. Baseball has plenty to fall back on, and realignment would help secure a better future.