Seat Jumping as Social Climbing at the Ol' Ball Game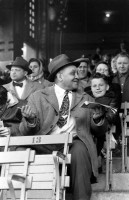 Ed. note: Please welcome a new voice to the fold, someone I'm very excited to have on board: The Baltimore Chop. He'll be chiming in here periodically on any number of things, all of which I believe you'll enjoy. Kindly give him the secret Loss Column handshake and head on over to his site for more good stuff.
One of the reasons that baseball has endured so well throughout its history is the strict observance of ritual. From the ceremonial first pitch to lining up for the handshake as soon as the final out is recorded, players pass their rituals down from one generation to the next. The fans hand down their traditions as well; whether it's a father teaching his son how to fill out a scorecard, doing the wave and yelling charge, or one of baseball's most long-standing and time-honored traditions, seat-jumping.
I learned seat-jumping at my daddy's knee in Memorial Stadium. Our regular seats were the left field bleachers, but as a youngsters we were given free rein around the fifth inning to go sit wherever the hell we wanted. We'd go from the bleachers into the green seats, and eventually into the blue ones with the idea being that we wanted to be close enough to the infield to be heard when we were cheering the O's or heckling opposing players. It wasn't until much later that I came to realize that this was more than the hijinks of a young sports fan; it was a life lesson.
By the time Oriole Park had opened and I'd finally reached an age where I could go to games without parental supervision, I was already a seat-jumping pro. This is also around the time that some of the shine started to wear off the New Stadium, and the O's had taken up permanent residence in the basement of the AL East… so there were plenty of empty seats to go around.
As an adult, I've always been in the habit of paying eight or nine bucks for a ticket to the ballgame and just strolling right into a $50 seat before the Anthem is played. It took that fancy new stadium with its skyboxes and its so-called 'prime' games for us to realize a simple truth, that the good seats are about more than the view. They're about quality of life. They're about privilege. They're about Access.
Watching a game in section 32 at Camden Yards is a much different experience than in section 382. They give you a seat cushion. They give you a cupholder. The beer man comes around. The Bird comes around. But perhaps the biggest difference in where you sit is who you're sitting with. Up in the cheap seats, the people can be "folksy" to put it mildly. And god help you if you try to sit in left field uppers on student night, when full sections transform into Animal House. In the box seats, the only drunken fools you have to put up with are the world-class Olympic athletes. Strike up a conversation with the fans next to you, and they're likely to work for T. Rowe or Legg Mason or Constellation Energy. You might even bump into a certain former congressman and future mayor.
Is seat-jumping stealing? That's a philosophical question that each fan must answer for himself, but being able to steal that kind of access is a lesson we'd all do well to carry away from the diamond, and one that's crucial to the myth of the American bootstrap.
Time and again when we look at some of our most successful rags to riches stories, they all involve someone who 'stole' access to to a higher social station. From Bill Clinton to Bob Ehrlich or from Oprah Winfrey to Bill Gates, not to take away from anyone's merit, but all of these stories contain components of Access (private schools, scholarships, beneficial marriages in the family, etc) that are the exception, not the rule for most people. All of these people were once considered the ugly duckling among so many swans… not among so many other ugly ducks in a scum-ridden pond.
In Baltimore we've got long traditions of lying about school childrens' addresses, calling out friends-of-friends for favors, and finding that coveted 'guest' spot at the country club. We understand the importance of these things. Call us social climbers, hell… we've been called worse. Sometimes you're better off eating the salad at Petit Louis than the crab cakes at Sip and Bite.