Thanks, Baltimore Mag, For Naming The Loss Column a 2011 "Best Of"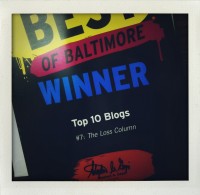 Well this was a nice surprise. Baltimore Magazine is out today with their annual "Best of Baltimore" issue and The Loss Column has been named one of the area's "Top Ten Blogs".
According to the writeup, No blog covers local sports with as much wisdom. With a decidedly realistic/pessimistic perspective, it asks questions like, "What if the Orioles never win again?"
I have to say that I'm incredibly grateful. It was just earlier this year when I gave considerable thought to shutting things down, and even though I retooled my approach I still had days when I wondered if maybe this whole thing had just run its course.
Lately, though, I've been feeling reinvigorated and recognition like this tells me that it isn't for naught. I dig that.
So thanks, Baltimore Magazine, and thanks to all of you who join me here. Commenters and non-commenters alike, daily visitors and occasional drop-ins. I owe ya one.