The Non-Fan's Guide to the French Open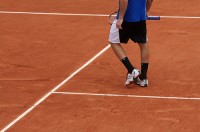 The French Open started this past weekend, and I'm willing to bet many of you didn't notice.
Following tennis week in and week out is a tough sell. Most tournaments aren't televised unless you have the Tennis Channel. Even then a lot of them still aren't available. For the ones that are, the schedule is usually weird and highlights don't make the news. Thus, the only reliable way to follow tennis regularly is to scour various websites. That's a task best left to true fans.
Grand Slam tennis is a different story. Coverage is plentiful and often quite good. If you're ever going to watch tennis as a casual fan (or non-fan), odds are you'll do it when a Slam rolls around. The next two weeks afford that chance. In order to help you along, here's what you need to know.
The French Open is its own animal.
The French is the only Slam played on clay, and clay court tennis is different from tennis played on hard courts (what you usually see) or grass (Wimbledon).
Clay is considered a "slow" surface where success hinges on shotmaking ability and strategy. The game there is fluid, with players sliding into shots as opposed to stopping and hitting. For the casual fan, this can safely be deemed a more exciting brand of tennis. You'll generally see more long rallies and surprising shots on clay than you will on other surfaces.
Clay courts are also an equalizer. One player can't usually overpower another — it's a true test of pure tennis skill, which can make for great matches.
Roger Federer and Rafa Nadal are not the favorites.
Even if you don't know tennis you probably still know Roger Federer. He is, in my opinion, the greatest ever. You probably also know Rafael Nadal, who has been with Federer in some combination of one-two for about five years.
This year, however, Federer has slipped a bit. He's still great but isn't considered a favorite at the French, historically his weakest Slam. But Nadal's not the favorite, either.
Novak Djokovic is. For about four years he's played third fiddle to Roger and Rafa but this year he's in an otherworldly zone. Indeed, he hasn't lost yet in 2011 (39-0).
He's the favorite entering the French, but he's not a historically dominant player. The run is due to end at some point and, thus, there's intrigue at the top.
I'd expect all three of the above-named men to be there at or near the end, but don't be surprised to see Andy Murray, Robin Soderling, or Juan Martin del Potro sneak into the mix. Wild card names to watch for include Gael Monfils, David Ferrer, and Tomas Berdych.
The women's draw is wide open.
Neither Williams sister will appear at the French this year, and the truth is there isn't a dominant woman at all. Justine Henin is retired and Kim Clijsters is coming off an injury. Overall number one Caroline Wozniacki is a capable player who wins a lot of lesser tournaments but she has yet to tally a Major. Her game is based on defense and she's susceptible to any strong opponent who finds momentum.
I can't begin to predict what will happen with the women, but I will give you one name to watch: Julia Goerges. She's seeded 17th at Roland Garros but I've seen her here and there in some deep tournament runs lately and she's got a whiff of "next big thing" about her. It wouldn't surprise me to see her take a star turn here.
However it goes, expect a fun tournament.
Bottom line is that no player on either side should be considered a prohibitive favorite. Combine that with the fact that clay (as noted above) tends to equalize and you've got a recipe for one entertaining show.
If nothing else, make some time to tune into the semis and the finals. I'd be stunned to see blowouts in any of the final four matches on either side, and in fact I expect competitive and entertaining tennis all around.
This should, in other words, be a perfect chance for a casual or non-fan to become a real fan for good.
(photo via Flickr user noviceromano)