Tragedy Strikes the Orioles Family: Mike Flanagan Dies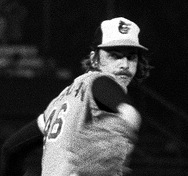 Terrible news out of Birdland tonight: Oriole great Mike Flanagan has passed away.
It's hard to figure out what to say on a site like this when something like this happens, especially so soon after the fact when so few details are known. But I wanted to put up a post anyway because I wanted to say one thing: Flanagan was a true Oriole. Through and through, that guy embodied the things we love about this team and the reasons why we never stop loving them.
He is gone too soon, and he will be missed.
I might have more to say on this later…but probably I won't. I just want to publicly tip my hat to Mike and wish well to his family, friends, and the organization.
Listening to the radio right now as the O's play the Twins and baseball keeps happening. That's as good a tribute as any for now.
Kudos to Joe Angel and Fred Manfra — they're doing a great job.