Wait Is Over: Loss Column Mock Draft 2011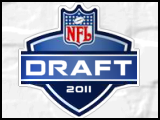 Ed. note: In keeping with tradition I'm stoked to offer your official 2011 NFL mock draft, courtesy of occasional contributor Chris. Who, you might remember, was one of the few pundits to correctly call the Ravens picking Joe Flacco. Take that, Peter King.
1. Panthers- Cam Newton, QB, Aurburn
Having no pick until the 3rd round, it would be temping to trade down here and accumulate picks, but the Panthers having some branding issues, so this pick is more a marketing decision than a smart football move. The next marketing move should be changing the embarrassing flying-Thundercat logo and 80's thrash metal font.
2. Broncos – Marcell Dareus, DT, Alabama
The Broncos ranked last in defense last year. They pick the best defensive player in the draft this year. Doy.
3. Bills – Nick Fairley, DT, Aurburn
Unproven (one year of real production). Questionable work ethic. But what the hey, the Bills are far from one player away so they can afford to take a flier on a player that could potentially anchor their crappy defense for years to come.
4. Bengals – AJ Green, WR, Georgia
Someone may want to jump up and grab Blaine Gabbert here, so a trade-down is possible. But if Calvin Johnson is Megatron, then AJ Green is Soundwave; big, rangy, soft hands, loyal to the Decepticon cause, sharp route runner, can play cassettes in his chest that transform into electric guitars, good work ethic, etc. Too temping a pick-up since Chad 85 might be on the way out.
5. Cardinals – Patrick Peterson, CB, LSU
None of the remaining QBs are alluring enough to pass up the chance of building a dreamy secondary with the CB tandem of DRC and Pat Pete (He probably hates being called that).
6 Browns – Prince Amukamara, CB, Nebraska
With the new 4-3 system being installed, they can pass on Von Miller and take the Fresh Prince of Omaha (or Lincoln or wherever, I'm not sure where the Nebraska football campus is.) pairing him with Joe Haden. The D-line does need help, but Prince Amukamara is a really cool name. They can address the front seven needs with one or many of their four picks in the 2nd and 3rd rounds.
7. 49ers – Von Miller, OLB, Texas A&M
Spikes and Willis on the insides and Miller on the edge makes for a pretty fearsome LB crew. They could go DE/NT here, but of their choices, Miller fits best. Plus he's named after one of San Francisco's most influential black metal bands. It's too big a coincidence for the Niners NOT to take him here…and they know this.
8. Titans – Blaine Gabbert, QB, Mizzou
Flip a coin. Heads: Gabbert. Tails: Locker. (flip) Tails. (…) OK, best two out of three…
9. Cowboys – Tyron Smith, OT, USC
Romo needs to not be injured. This guy can help with that whole thing.
10. Redskins – JJ Watt, DE, Wisconson
WR Julio Jones or QB Christian Ponder would the Snyder-esque pick here. But giving the Redskins the benefit of the doubt, they do the pragmatic thing and go with JJ "Killa" Watt to aid an anemic pass rush. This is the Washington Redskins so don't discount some wacky blockbuster trade that sends this pick off for an aging, superstar mercenary.
11. Texans – Anthony Castanzo, OT, Boston College
When you can grab the top offensive lineman on the board with the 11th pick, you do it. YOU DO IT.
12. Vikings – Da'Quan Bowers, DE, Clemson
Bookending this snarling, rabid, yet injury-prone beast with Jared Allen is too fiendish a plot. The Vikings ignore the health red flags and take a flier on this hulking, ominous, yet Achilles-heeled man-monster.
13. Lions – Robert Quinn, OLB/DE, North Carolina
The Lions continue to exorcise the ghosts of Matt Millen and DON'T take Julio Jones. Quinn and Suh on the same defense has the potential to be scary. It's been a minute since the Lions had a defense that worried anyone. The time is now. NOW.
14. Rams – Julio Jones, WR, Alabama
Bradford to Jones…this decade's Warner to Bruce.
15. Dolphins- Mike Pouncey, OG, Florida
Pouncey stays in-state. Not putting the cart before the horse, the Dolphins address the line first then look for a running back later on.
16. Jaguars – Cameron Jordan, DE, Cal
The Jaguars & Panthers are the two most difficult teams to care about in the entire league. The Jaguars pick this guy.
17. Patriots –Ryan Kerrigan, DE, Purdue
Belichick continues his secret Aryan Vanguard agenda by adding white guys in an attempt to make his roster look more like the stands at Fenway.
18. Chargers – Aldon Smith, OLB, Mizzou
This will be a project pick. High risk/high reward. He's not going to come in make an instant impact, but the Chargers can afford to take the time necessary to mold this soft, supple, and oh-so mailable man-clay.
19. Giants – Martez Wilson, ILB, Illinois
He probably would have gone higher, but a herniated disk in his third year left buyers wary. However, after a successful backiotomy, Wilson rebounded and shone like the bright, shining, shiny star he knows he can be. Believe in yourself and anything is possible! And that's..one to grow on.
20. Buccaneers – Justin Houston, DE, Georgia
Necco wafers are the grossest candy in the pantheon of disgusting confections. Chalky, Alka-Seltzer-like, disks of revulsion. The color doesn't even matter. They're all awful. All equally, god-awfully repulsive.
21. Chiefs – Stefen Wisniewski, C, Penn State
Seriously, who goes into a store and is like "You know what I want? Pressed disks of colored drywall!!! That would really hit the spot right now!" And if you give these things out to children on Halloween, you're a straight dick.
22. Colts – Nate Solder, OT, Colorado
Great OT name. Plus the "lasur, rawkit awrm" needs to be kept in pristine condition for funny advertisements.
23. Eagles – Derrek Sherrod, OT, Miss. State
Thus ends the frantic run on offensive linemen. Smart pick to help Vick run around and do things.
24. Saints – Mohammed Wilkerson, DT, Temple
Straight off scenic North Broad St…Mo-Wilk and Ellis clogging up the middle should help bolster the Saints lame 16th ranked run-D.
25. Seahawks – Christian Ponder, QB, Florida State
"I pity the poor Pete Carrol/Who wishes he would've stayed home / Who uses all his power to do evil / But in the end is always left so alone"
26. Ravens – Brandon Harris, CB, The University of Miami
Practically every year I predict a 1st round CB pick by the Ravens. Every year the Ravens prove they think they know more than me. But this year the pick is too perfect. They finally fill this annual glaring need with a guy that fits all too well. The essentials are there: He's from Tha U…niversity of Miami…he's a corner back…he's good at playing corner back…the Ravens need a corner back. Is any of this logic flawed? If they don't pick him up, the Steelers will.
27. Falcons – Adrian Clayborn, DE, Iowa
The top five soundtrack albums of all time are as follows: 1) Flash Gordon, 2) Superfly, 3) Jesus Christ Superstar, 4) The Harder They Come, 5) Saturday Night Fever. Honorable mention – Xanadu. (Just looking to see if anyone's still reading.)
28. Patriots – Mark Ingram, RB, Alabama
Belichick is forced to integrate when Mark Ingram falls into their laps with the 28th pick. The Packers may try to move up for him which will allow the Patriots to stockpile even more draft picks. Not sure how this is fair.
29. Bears – Stephen Paea, DT, Oregon St.
Corey Liuget is possibility here, but Paea gets the nod cuz he did a record 49 reps on the bench press at the combine. Some people are impressed by that nonsense. Jerry Angelo seems like that kinda person.
30. Jets – Corey Liuget, DT, Illinois
First and foremost, you pronounce his name (le-git). That's reason right there. Besides that, Kris Jenkins is no longer viable at NT and the depth at the position is wafer-thin. C-Legit seems like a logical choice
31. Steelers – Danny Watkins, OG, Baylor
The fact that he's 26 and Canadian makes his stock fall, but at #31, the Steelers get gifted with a future 10-year starter.
32. Packers – Akeem Ayres, OLB, UCLA
Not sure how one of the top LB prospects dropped this far, but the Packers would be more than happy to add yet another weapon to an already stocked defense. (This will never happen, by the way.)