What the H? Sports Show is Actually Good.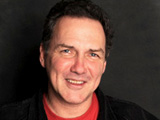 Ed. note: this is the latest in a series of posts from new semi-regular contributor The Baltimore Chop.
I've been watching Sports Show lately. That's a surprising enough statement in its own right, but the thing that's really kind of shocking is that the show is actually funny.
Comedy Central's latest attempt to mix jocks and jokes is now more than halfway through it's initial 8-episode network order, which in the genre of sports comedy means it's already defied the odds and come out a winner. As ESPN's Patrick Dorsey pointed out in April, mixing sports and comedy has long been a fool's errand, and no one has been able to do it successfully yet. Comedy Central was the most recent failure in the field with Onion Sportsdome, which as NBC elaborates was nearly unwatchable. I think Sports Show has much more going for it than that program though, and more than all the other sports shows on the ratings rubbish pile. Here's why I suspect it will succeed where so many other fail:
Format. To me, Sportscenter is unwatchable- as are most programs on ESPN. I can barely even make it through Baseball Tonight. These programs are so fast-paced, with so much text crowding the screen and so many technical effects that they start to blur within a minute or two. ESPN seems bent on airing as many highlights as possible and providing context for none of them. Sportsdome lived by aping this format, and died by it as well. Applying the Daily Show format to sports is the most obvious answer, and it may also be the best. So far, Sports Show has come closer than any other to approximating it.
Talent. Norm MacDonald is a top-tier comedian. He was there during the last golden age of SNL, and has had a fairly successful movie career in supporting roles. He may seem to have not done much lately, but he has been a working comedian and comedy writer for 25 years. The man knows how to tell a joke. Can you remember who hosted Sportsdome? Yeah, me neither.
Writing. The Sklar Brothers are also pretty funny professional comedians. They headline tours and record CD's and star in cable specials and all that good stuff. Still, their terrible sports-themed show was a huge failure. In part, it failed because there was minimal writing. The concept was just two guys sitting on a couch riffing on sports clips, à la Beavis and Butthead. It was the kind of thing that makes for an okay podcast, but not a very good TV show. In addition to MacDonald himself, the show has done well to hire professional writers, and it comes through on camera. Being so new, the show is still figuring itself out, and that's part of what makes it fun to watch. The punch lines are often not the most predictable joke, which is why they work so well.
Political Incorrectness. Okay, so… this show is pretty racist and sexist. You almost don't notice it if you're watching Tosh.0 as the lead-in, but a lot of the jokes are based on ethnic and gender stereotypes. As I say though, they're well-written jokes delivered by a professional comic, so they're actually handled very delicately. Lines are approached, even stepped on, but not crossed. Much of the humor leaves you thinking you might be offended if you weren't laughing so much.
Time Slot. Sports Show is a pretty natural fit between two of Comedy Central's highest-rated programs ever, Tosh.0 and The Daily Show. The network also seems to be not repeating past mistakes by beating viewers over the head with endless reruns and promos. Pro athletes will always continue to have affairs, catch weapons charges and say stupid things, so there's an endless supply of material out there if the show can keep harvesting it and the network continues to let them.
What do you think? Have you seen Sports Show yet? Would you watch it again? Maybe you prefer a more scripted sports-comedy format like Eastbound and Down or The League. Perhaps you like sports-themed movies like Major League, but have sworn off TV for good. Whatever your take, let's hear it in the comments.