When Lee, Roberts, & Uehara Miss Time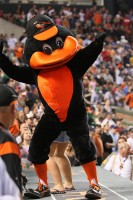 It hasn't been easy. Not at all. But through a combination of diligent observation and implementation of careful ritual, "cautious optimism" has reigned as my go-to emotion for Spring Training so far.
I don't like that Derrek Lee hasn't played yet but, hey, he's coming off of injury. I don't like that Brian Roberts has been shut down but, hey, it's all about being ready for Opening Day. I don't like that Koji hasn't been pitching but, hey, it's Koji so let's treat him with kid gloves and it'll turn out OK.
(there's also Duchscherer, but this post is about cautious optimism so we'll skip him for now)
That said, I'm becoming more and more aware of just how important good fortune on the injury front really is. Every injury has a ripple effect, and on a team like this those ripples can be the difference between 82 wins and 72.
The good news: all three guys seem poised to get into game action this weekend. I think there's a better-than-even chance the team is full-strength on April 1.
The bad news? Let's face it: odds are that all three of them will miss time at some point this year. Perhaps significant time.
If and when that happens it will be a true and significant test of character. Everybody seems to have a "we're ready, let's go get 'em" attitude so far and it's been great to see. But what else are you going to say in Spring Training?
No, I want to see what they say — and, more importantly, how they act — when adversity arrives. Almost as much as the win-loss total it will be that kind of performance under pressure that tells us if we've really turned the corner or if 2011 is destined to deliver more of the same.
And they will face that pressure.