2012 Orioles: Prediction Time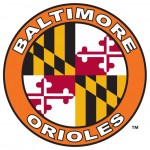 Spring Training is just about over and the 25 men who will head north to face the Twins on Friday are basically set. The Birdland trolley is gassed up and ready to move. Baseball season is here.
Which makes now a great time to reiterate my philosophy for the season: No Expectations, Just Baseball.
The more I think about it the more liberating that idea becomes. I honestly can't remember another season like this one, where the Orioles enter the year carrying virtually no baggage. Last season's colossal disappointment — coming as it did on the heels of so many seasons of disappointment — cleansed the palate. Literally any success this year is gravy. There's no longer any such thing as being let down. All we have left is the experience and what we bring to it.
Which, I suppose, begs one more question: what do we bring to it?
If we're smart the answer is, "nothing more than our love of this team and this game." Of course some will no doubt disagree with me and lament the team's continued state of relative disrepair. I don't begrudge that opinion, but I do caution against it. There's nothing productive in continued lamentation, neither for the team nor for the soul of the actor.
Even with that said, predictions are fun to make. Rarely fun to revisit, of course, but always fun to make. So with that in mind, here are a few of mine in hopes that you'll be inspired to make a few of your own.
At least one young pitcher will surprise us by maturing.
I think it'd be almost impossible for this not to happen. The Cavalry was the Cavalry for a reason and I think we'll see at least a hint of that this year.
We'll continue to be reminded of how lucky we are to have Jones, Wieters, and Markakis.
Those three — in that order — would all be perceived much more favorably than they are if they played on winning teams. We're lucky to have them (even Markakis, from whom I predict a rebound).
Dan Duquette will do something weird.
I think we, as fans, are really underestimating this guy's capacity to do some crazy shit. I don't know what form it will take but I think he'll have us scratching our heads at some point.
These Orioles will not be boring.
First thing you want is wins. If they're not coming by the bucketful and you still want some baseball the next best thing is that your team not put you to sleep. I don't think this year's O's will disappoint in that regard.
And finally, the record.
I don't think there's any way they end up worse than last year's 69-93 mark. I'm not so crazy, however, that I'm going to predict .500 or better. I believe they'll settle in at something like 74 wins (74-88). Still not where we want them to be but somewhat better than last year and, hopefully, headed in something that resembles the right direction. Hope — in that regard and that regard only — springs eternal.
Now it's your turn. What do you think we'll see this year, and where do you think we'll end up record-wise? I'm actually really curious here. I have a hunch this might be the first time that nobody suggests .500. But maybe I'm wrong?